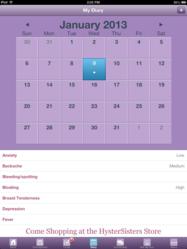 A vast majority of respondents – 83 percent – say that hot flashes negatively affect their sleep, followed by mood. Another third report a negative effect on their sex lives.
Dallas, Texas (PRWEB) March 04, 2013
HysterSisters.com, creator of the Hysterectomy Support App for iPhone, iPad and Android phones and the Internet's number one destination for woman-to-woman support for gynecological health questions, today announced results from its newest survey of 4,500 women who visited HysterSisters.com between Feb. 4 and Feb. 24, 2013. Most women visit HysterSisters with questions about hysterectomy surgery options and alternatives and related gynecological health conditions such as endometriosis, fibroids and cancer.
A vast majority of respondents – 83 percent – say that hot flashes negatively affect their sleep, followed by mood. Another third report a negative effect on their sex lives.
Kathy Kelley, CEO and founder of HysterSisters.com, was surprised by how many women – over 50 percent – have hot flashes and don't pursue any treatment for them at all, whether hormones, alternative treatments or over the counter medicines. Nearly a third (29 percent) of those who experience hot flashes choose to take estrogen; but surprisingly, 42 percent -- 2 out of 5 women -- who report severe hot flash symptoms do nothing.
"Our members have shared that when they struggle with menopause symptoms such as hot flashes and night sweats, their doctors typically address these concerns with a prescription for estrogen replacement therapy," says Kelley, who founded HysterSisters in 1998 after her own surgery. "And a majority is interested in better options."
A vast majority – 91 percent – expressed interest in an FDA-approved, non-estrogen medication for treatment of hot flashes.
The 12-question survey asked women to rate the severity of their hot flash experiences, indicate the areas of their lives that are negatively affected, give opinions on their treatment options and report their interest in new therapies.
•Estrogen is the most popular therapy for hot flashes but 4 out of 5 women have concerns about taking it.
•Nearly 1 in 10 delay treatment for hot flashes and other menopause symptoms because of their concerns.
•Almost 2 in 5 say they've avoided treatment altogether for hot flashes (38 percent)
•Nearly 1 in 3 women focus on alternative treatments instead of hormone therapy (30 percent)
HysterSisters.com is an online community comprised of nearly 300,000 registered members with more than 800,000 visitors each month. Within the HysterSisters community, about 50 percent members report the removal of their ovaries when they have a hysterectomy causing immediate menopause. Surgical menopause also occurs when ovaries are damaged because of chemotherapy treatments.
The other 50 percent of the members report going through menopause gradually and naturally. Both sets of women experience menopause symptoms, but the effects of surgical menopause are typically more severe and pose a higher, more complicated challenge.
In January 2013 HysterSisters launched a mobile app for iPhone, iPad and Android phones that includes a tool to help women track their menopause symptoms. It includes a daily calendar and a list of 23 physical, mental and emotional conditions ranging from anxiety, back aches and bleeding to insomnia, loss of libido, nausea, night sweats and pain during intercourse. Women can chart their symptoms and share with health care providers to learn how to manage them.
After leading HysterSisters for over 14 years, Kelley believes that women need second and even third opinions before making long-term decisions about treatments. "Medical technology is moving faster than ever before, giving women more options about treatments. They deserve alternatives for managing their menopause symptoms, too. I want to see more options for more women, because many have valid concerns about their current choices."
Kelley presented HysterSister.com's survey findings to an FDA panel on menopause treatments on Mon., March 4, 2013 in Silver Spring, Md.
About HysterSisters.com From its early days as a 1998 AOL personal website, HysterSisters.com has grown to almost 300,000 registered users in 2013. Over 25,000 women visit HysterSisters daily to find information about surgical choices, hysterectomy alternatives, post-surgical recovery, cancer treatments, hormone replacement therapy, menopause, and other gynecological health concerns. Virtual hostesses monitor more than 35 interactive forums on those topics and more.
HysterSisters.com is an independent source of hysterectomy information and experiences; it is not pro- or anti-hysterectomy.
Charts and additional data are available upon request.
# # #