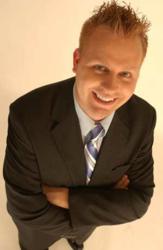 Businesses put too many marketing tactics into one basket. This presentation will show how to diversify and leverage online opportunities to achieve better results
Buffalo, NY (PRWEB) March 21, 2013
On March 25, Buffalo Niagara Sales & Marketing Executives (BNSME) present "How to
Use Guerrilla Marketing." Michael Tasner, founder of Taz Solutions and Guerrilla Marketing master, will give a presentation on how to effectively use guerrilla marketing techniques to grow a business.
Admission to the seminar is free for BNSME members and ranges from $25.00 to $40.00 for non-members. Admission includes a cocktail hour and dinner at the Buffalo Niagara Marriott, 1340 Millersport Highway. The evening begins at 5:15 p.m. with cocktails, dinner at 6:15 p.m. and Tasner's presentation will begin at 7:15p.m.
According to Tasner, "Businesses put too many marketing tactics into one basket. This presentation will show how to diversify and leverage online opportunities to achieve better results." Tasner's action-oriented presentation will demonstrate how to cut through the noise with a fresh and simplified approach to Internet marketing.
Guerrilla marketing is an unconventional way for businesses to gain exposure without having to sacrifice their marketing budgets. By using creativity and out of the box thinking, brands can spread their message without spending a lot of money. Tasner is one of only four Guerrilla Marketing Master Trainers in the world. He was trained by the father of guerrilla marketing, Jay Conrad Levinson.
Tasner is the founder of Taz Solutions Inc., a leading marketing, design and consulting firm. He is also chief marketing officer for Guerrilla Marketing, one of the best-known marketing brands in the world. Tasner brings a wealth of experience to the table as an expert within the Internet marketing, offline marketing and business development space. His true specialty is his mastery of the marketing world as a complete tool to both grow new businesses and help them to thrive in a very crowded playing field.
An entrepreneur, author, investor, charity proponent and internationally renowned keynote speaker, he is one of today's most sought-after and respected marketing authorities. His latest book, "Marketing in the Moment," is a complete no-fluff desk reference for the future of online marketing, which he calls Web 3.0
For more information or to purchase tickets call the BNSME at (716) 662-2279 or visit their website at http://www.bnsme.org.