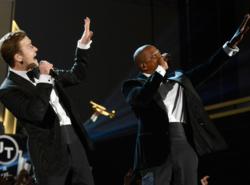 Pittsburgh, PA (PRWEB) March 15, 2013
Announced in February, the Legends of the Summer Tour will kick off on July 17, 2013 in Toronto, Canada. The Justin Timberlake Jay Z concert will tour across 12 cities in North America, with an additional early tour stop at Olympic Stadium in London, England. Tickets are currently on sale at HeadlineTickets.com, and will continue to sell until the night of the concert. The concert will feature music from Timberlake's most recent album, such as the artist's comeback single "Suit and Tie."
Few tours in the United States this year include such iconic stops in North America, such as Soldier Field in Chicago, Fenway Park in Boston, and Yankee Stadium in New York. Other tour stops offering Justin Timberlake Jay Z concert tickets will include:
Candlestick Park in San Francisco, July 26, 2013
Rose Bowl in Pasadena, July 28, 2013
Ford Field in Detroit, August 6, 2013
Hersheypark Stadium in Hershey, August 4, 2013
Citizens Bank Park in Philadelphia, August 13, 2013
Justin Timberlake Jay Z concert tickets were first rumored following the Grammy Awards, during which the two artists performed "Suit and Tie." Jay Z also appears on the video for Timberlake's David Fincher directed music video. Recently, Justin Timberlake and Jay Z performed a day before the Super Bowl in New Orleans on February 2, 2013.
HeadlineTickets.com is a secondary ticket reseller specializing in concert tickets throughout North America. While major ticket retailers may run out of tickets quickly after the public sale, third party ticket resellers often have tickets available up until featured concerts. Justin Timberlake Jay Z concert tickets are available at Headline Tickets with no service fees.
Timberlake has been enjoying a revival as of late, beginning with the release of his newest album in 2006, and continuing up until his recent return to Saturday Night Live on March 9th, 2013. Timberlake will release his third solo album on March 19, the RCA Records release of "The 20/20 Experience." The upcoming tour will be the first time Timberlake will go on extended tour since his larger 60-city North American tour in 2007.
About Headline Tickets
HeadlineTickets.com is one of the most popular secondary ticket exchanges on the Internet, with tickets available for sports, theater, and concert venues across the United States and Canada. Search the site for local entertainment in many local areas at prices that competitors can't match. Headline Tickets Now is an accredited business with the Better Business Bureau (BBB) of Western Pennsylvania.
Please use this special limited time discount code "Alpha Dog" for an additional 2 percent of the already lowest final priced tickets on the secondary tickets exchange. Compare after fees and delivery.