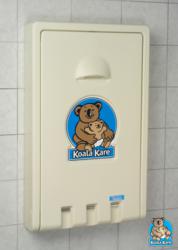 We are always trying to offer the best deals to our customers. You can expect more similar offers in the next few weeks
(PRWEB) March 12, 2013
Koala Kare KB101, one of the most sought after baby changing stations in the market, is now available for a discounted price at Babystations.com. The buyers purchasing this product from this trusted online store can receive it for only $189.78. Babystations.com is a familiar name in the child care products market for its exquisite range of baby changing stations. In addition to changing stations, the company also has an impressive collection of child seating products and accessories from renowned manufacturers like Hospeco, Bobrick, and Koala Kare.
Different lucrative discounts are offered by Babystations.com from time to time, making it a frequently visited destination amongst people looking for top class product within an affordable price range. To purchase Koala Kare KB101 for the best possible price in the market, please visit http://www.babystations.com/collections/popular-products/products/koala-kare-standard-vertical-plastic-baby-station.
Koala Kare KB101 is a surface mounted vertical changing station with an actual weight of 30 pounds. The product is equipped with child safety straps to provide superior child protection. The surface of the bed can significantly reduce odor causing bacteria population because it exclusively contains Microban® antimicrobial. A properly installed Koala Kare KB101 baby changing station is ADA compliant, too.
Unlike most other child care product stores, Babystations.com is owned and managed by three dads Jerry, Matt, and Cameron. All three of them had a terrible time changing their babies in places that were not equipped with changing stations. Talking about their limited period offer on Koala Kare KB101, Cameron says, "We are always trying to offer the best deals to our customers. You can expect more similar offers in the next few weeks".
About the Company: Babystations.com is one of the most trusted online stores for all reputed brands of baby changing stations. The store has just introduced a limited time special price for Koala Kare KB101, an extremely popular baby changing station.