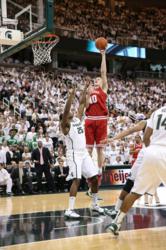 be sure not to miss any of the action
Libertyville, IL (PRWEB) February 28, 2013
LED Display Signs, Inc (LDS) has provided a countdown clock for the 2013 NCAA Men's Basketball Tournament. The countdown clock will track the days, hours and minutes until the start of the first game on March 19th. March Madness has been an obsession for basketball fans for many years, but has exploded into an event rivaling even the Superbowl.
LDS is a provider of programmable LED message centers, signs and countdown displays. Programmable LED countdown and count-up clocks can be used for a multitude of purposes, and can be reprogrammed repeatedly. Countdown and count-up clocks have been used for such notable purposes as New Years, the Superbowl and even recently counting down to the infamous "Fiscal Cliff." Probably the most publicized "count-up" clock in the world is the one on Sixth Avenue in Manhattan, displaying the growing National Debt.
The countdown to March Madness will allow basketball fans to track the time remaining before the start of the tournament. The tournament team selections will occur on March 17th, leaving only 2 days for fans to make picks for the numerous brackets that will be in play. This being the case it is essential that fans are aware exactly when the first games start, since bracket pool selections must be submitted before the games begin. LDS will help make certain that no fans miss out on the excitement and action that is sure to happen. For more information on programmable LED countdown displays visit http://www.led-display-signs.com, and be sure not to miss any of the action.