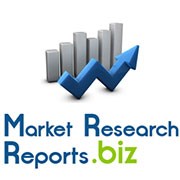 Albany, NY (PRWEB) March 20, 2013
New Market Research Report Added In MarketResearchReports.Biz Reports Database Global Automotive Industrial Robotics Market 2012-2016. Buy the Copy of this Report @ http://www.marketresearchreports.biz/analysis-details/global-automotive-industrial-robotics-market-2012-2016
TechNavio's analysts forecast the Global Automotive Industrial Robotics market to grow at a CAGR of 4.81 percent over the period 2012-2016. One of the key factors contributing to this market growth is increasing factory automation across the globe. The Global Automotive Industrial Robotics market has also been witnessing the increasing adoption of industrial flexible manufacturing systems. However, the high initial investment required for the installation of industrial robots could pose a challenge to the growth of this market.
To Read The Complete Report with TOC Visit: http://www.marketresearchreports.biz/analysis/164778
TechNavio's report, Global Automotive Industrial Robotics Market 2012-2016, has been prepared based on an in-depth market analysis with inputs from industry experts. The report covers the Americas, and the EMEA and APAC regions; it covers the Global Automotive Industrial Robotics market landscape and its growth prospects in the coming years. The report also includes a discussion of the key vendors operating in this market.
The key vendors dominating this space are Fanuc Corp., ABB Ltd., KUKA AG, and Yaskawa Electric Corp.
Related Report: http://www.marketresearchreports.biz/analysis/164777
The other vendors mentioned in the report are Kawasaki Robotics Inc., Panasonic Welding Systems Co. Ltd., Rockwell Automation Inc., Adept Technology Inc., American Robot Corp., Denso Wave Inc., Evolution Robotics Inc., iRobot Corp., Nachi-Fujikoshi Corp., RoboGroup TEK Ltd., ST Robotics, and STAUBLI Corp.
Key questions answered in this report:
What will the market size be in 2016 and what will the growth rate be?
What are the key market trends?
What is driving this market?
What are the challenges to market growth?
Who are the key vendors in this market space?
What are the market opportunities and threats faced by the key vendors?
What are the strengths and weaknesses of each of these key vendors?
Latest Report: http://www.marketresearchreports.biz/analysis/164780
1. Executive Summary
2. Introduction
3. Market Coverage
Market Overview
Product Offerings
4. Market Landscape
4.1. Market Size and Forecast
Market Size by Revenue
Market Size in Units
4.2. Market by Robot Type
Robot Type by Revenue
Robot Types by Unit Sold
Articulated Robots Market
Cartesian Robots Market
SCARA Robots Market
Cylindrical Robots Market
4.3. Customer Segmentation
Customer Segmentation by Revenue
Customer Segmentation by Units Sold
Automotive Component Manufacturing Segment
Motor Vehicle Manufacturing Segment
4.4. Market Segmentation
Market Segmentation by Revenue
Market Segmentation by Units Sold
New Robots Segment
Refurbished and Used Robots Segment
4.5. Functional Segmentation
Functional Segmentation by Revenue
Functional Segmentation by Units Sold
Material Handling and Processing Robots Market
Welding and Soldering Robots Market
Assembling and Disassembling Robots Market
Dispensing and Painting Robots Market
Cutting and Milling Robots Market
4.6. Five Force Analysis
Technology Report: http://www.marketresearchreports.biz/analysis/164781
5. Geographical Segmentation
6. Key Leading Countries
Japan
China
US
7. Vendor Landscape
Key Vendors
8. Buying Criteria
9. Market Growth Drivers
10. Drivers and their Impact
11. Market Challenges
12. Impact of Drivers and Challenges
13. Market Trends
14. Key Vendor Analysis
14.1. Fanuc Corp.
14.1.1. Business Overview
14.1.2. Key Information
14.1.3. SWOT Analysis
14.2. ABB Ltd.
14.2.1. Business Overview
14.2.2. Key Information
14.2.3. SWOT Analysis
14.3. KUKA AG
14.3.1. Business Overview
14.3.2. Key Information
14.3.3. SWOT Analysis
14.4. Yaskawa Electric Corp.
14.4.1. Business Overview
14.4.2. Key Information
14.4.3. SWOT Analysis
15. Other Reports in this Series
Exhibit 1: Global Automotive Industrial Robotics Market 2012-2016 (US$ billion)
Exhibit 2: Global Automotive Industrial Robotics Market 2012-2016 (units sold in thousands)
Exhibit 3: Global Automotive Industrial Robotics Market by Robot Type 2012-2016 (percentage)
Exhibit 4: Global Automotive Industrial Robotics Market by Robot Type 2012-2016 (percentage)
Exhibit 5: Global Articulated Robots Market 2012-2016 (US$ billion)
Exhibit 6: Global Articulated Robots Market 2012-2016 (units in thousands)
Exhibit 7: Global Cartesian Robots Market 2012-2016 (US$ billion)
Exhibit 8: Global Cartesian Robots Market 2012-2016 (units in thousands)
Exhibit 9: Global SCARA Robots Market 2012-2016 (US$ billion)
Exhibit 10: Global SCARA Robots Market 2012-2016 (units in thousands)
For All Market Research Reports visit: http://www.marketresearchreports.biz/