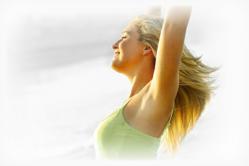 ...anxiety disorders are ... affecting 40 million adults in the U.S. age 18 and older (18 percent of the population).
Charlotte, NC (PRWEB) March 14, 2013
SouthPark Hypnosis and Charlotte Meditation are offering a group meditation session to offer anxiety management and stress relief.
An increased demand for anxiety and stress relief has made the decision an easy one to start offering an affordable one-hour group session to help people release anxiety and stress through meditation and guided imagery rather than prescription drugs.
The majority of SouthPark Hypnosis' clients are seeking relief from various types of anxiety.
"According to the Anxiety and Depression Association of America (ADAA), anxiety disorders are the most common mental illness in the U.S. affecting 40 million adults in the U.S. age 18 and older (18 percent of the population)," states Verena Martin, CCHT, founder and consulting hypnotist with SouthPark Hypnosis. "Based on my experience working with clients, I see anxiety as a self-generated response resulting from negative self-talk, stress and worries rather than a mental illness."
Either way, anxiety is a huge problem in our society and practices that teach mindfulness such as meditation, hypnosis and guided imagery are very effective ways to help people find relief.
"I am thrilled that Guru Ranjit Deora with Charlotte Meditation is doing us the honor to participate in this guided group session," Martin adds. "It is a great way for people to get acquainted with meditation and other mindful practices such as guided imagery."
Guru Ranjit Deora, founder of Charlotte Meditation, is a meditation master teacher, a holistic thinker and a life coach who enjoys helping people connect with their true selves and find happiness within. In his lessons on Mindful Meditation, the India native focuses on the mental dimensions of this ancient practice, bringing the benefits of joy as well as improved overall health.
The one-hour group meditation & guided imagery session will be held Wednesday, April 17 at 6:30 p.m. at the offices of Charlotte Meditation, 725 Providence Rd., Suite 300, in Charlotte. Pre-registration is required and space is limited. The cost for this one-hour group session is $25.
To participate in this stress and anxiety relieving discovery of the self, please register in advance through SouthPark Hypnosis online booking system (http://bit.ly/Yp1uQu "Workshop" tab), call Verena Martin at (704) 550-1201 or email verena(at)southparkhypnosis(dot)com.
SouthPark Hypnosis Center LLC is conveniently located in the greater South Park area in Charlotte, N.C. Verena Martin, consulting hypnotist and SouthPark Hypnosis' founder, provides hypnosis services to adults and children for a variety of issues.
Areas of specialties include: anxiety and stress management, fears and phobias, and hypnosis for children. The center plans to add hypnobirthing later this year.
Sign up for Martin's blog at http://www.SouthParkHypnosis.com/blog, and stay connected with SouthPark Hypnosis via Twitter @SPHypnosis; Facebook, http://www.facebook.com/southparkhypnosis; Pinterest sphypnosis; and LinkedIn southparkhypnosis.
SouthPark Hypnosis does not offer medical nor psychological services, but strictly hypnosis and education for self-improvement and personal development.