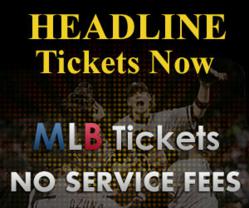 Pittsburgh PA (PRWEB) February 16, 2013
Scheduling changes, personnel moves, and additional interleague games will characterize the 2013 MLB season, while minor rule changes announced this year could have an impact on early games in the MLB schedule. The Houston Astros will now sell 2013 MLB Tickets as part of the American League, one of the most visible changes this year. The Astros made a number of changes at the end of the 2012 season, including firing coach Brad Mills and replacing him with former Washington Nationals third-base coach Bo Porter. As part of the move, the Houston Astros will also now compete in the West Division in 2013.
Perhaps the most important change in regards to 2013 MLB tickets sales will be the addition of more games to the professional baseball schedule. In addition to the 84th edition of the MLB All-Star Game, fans can expect each team to play more games throughout the year. The Astros' move to the American League creates two equal leagues of 15 teams each, separated into a total of six five-team Divisions. The odd number of teams will allow for 20 interleague games in 2013 for each team. 2012 MLB tickets were more difficult to purchase in 2012 with only 15-18 interleague games included on the schedule for each team.
As in previous years, HeadlineTickets.com is standing by to take orders for all 2013 MLB tickets, including spring training games. As a third-party ticket exchange website, Headline Tickets can offer all professional sports tickets without fees, even long after the public sale for each game has ended.
A number of minor rule changes to 2013 MLB play will include the following:
1. Coaches may now be accompanied by interpreters to help facilitate conversation with pitchers not fluent in English.
2. Pitchers may no longer fake a throw to third base, only to follow up with a throw to first, as this move will be ruled a balk.
3. Teams are now allowed an additional uniformed manager in the dugout, for a total of seven.
An additional manager in the dugout for 2013 MLB games will require approval from the players' union, but is intended to allow teams to continue hiring a second batting coach without sacrificing on-field leadership in other areas.
Major League Baseball announced last month that the 2013 MLB season-opener would take place on March 31, 2013 when the Houston Astros take on the Texas Rangers (in Houston) at 8:00 p.m. The final games in the 2013 regular season schedule will take place on Sunday, September 29th, a total of 11 Division matches.
About Headline Tickets
HeadlineTickets.com is one of the most popular secondary ticket exchanges on the Internet, with tickets available for sports, theater, and concert venues across the United States and Canada. Search the site for local entertainment in many local areas at prices that competitors can't match. Headline Tickets Now is an accredited business with the Better Business Bureau (BBB) of Western Pennsylvania.