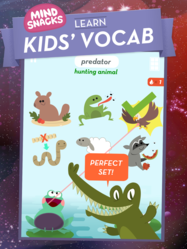 San Francisco, Calif. (PRWEB) March 07, 2013
MindSnacks, the leading developer of mobile educational games, today released Kids' Vocab as the newest subject in its growing family of award-winning language acquisition and test-preparation apps. Now available for download, Kids' Vocab represents a groundbreaking way for young students to learn essential vocabulary.
Unlike other vocabulary apps, Kids' Vocab imparts a deeper understanding of words than just simple memorization. The app serves as a comprehensive vocabulary tool that teaches definitions, spelling, pronunciation, contextual usage and parts of speech. Designed especially for students ages 7-12, Kids' Vocab offers hours of fun and challenging gameplay that can be used on a daily basis to supplement regular classwork.
"Kids' Vocab will give your child a distinct advantage both in and out of the classroom," said Jesse Pickard, co-founder and CEO of MindSnacks. "Because the content is so extensive and the games are engaging and age-appropriate, the app offers the opposite of rote memorization and flashcard techniques. Students who play our app will improve skills such as spelling, visualization, rapid recall and proper usage. Parents can rest assured that the time kids spend playing games on their favorite phone or tablet will have a positive impact on their fundamental reading and writing skills."
Each Kids' Vocab app comes packed with nine addictive mini-games that cover 25 lessons and approximately 350 words. The app has also been designed to support the Common Core Learning Standards, and challenges students to:

Clarify the meaning of words
Think in terms of domain-specific groupings
Detect context clues
Spell correctly
Identify lexicographical information
The curriculum found in Kids' Vocab has been selected by in-house education experts who synthesized a list of indispensable words drawn from both their own research as well as vocabulary suggested by numerous state curricula. As students play through the games, they will encounter usage guidelines, example sentences, and fun factoids about homophones, word parts, etymology and figurative language.
Download Kids' Vocab by MindSnacks from the iTunes App Store today, or visit http://www.mindsnacks.com. To learn more about the app, view the Kids' Vocab trailer and screenshots in our press kit.
About MindSnacks, Inc.
MindSnacks is a San Francisco-based company that builds mobile educational games for users of all ages. Since 2010, MindSnacks has continuously released engaging apps that encourage long-term learning. With over six million app downloads worldwide, the MindSnacks portfolio currently consists of 15 top-ranked language acquisition and test-preparation apps. MindSnacks enjoys the support of top-tier venture capital firms such as Sequoia Capital, Felicis Ventures, 500 Startups and Kapor Capital.