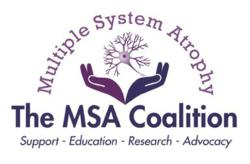 Multiple System Atrophy is a rare and fatal disorder.
Raleigh, NC (PRWEB) March 28, 2013
The Multiple System Atrophy Coalition (formerly the SDS/MSA Support Group) is sponsoring a national letter-writing day for those impacted by multiple system atrophy (MSA). The campaign, which will take place on March 28, will target letters to both houses of Congress and to the President of the United States. The goal is to educate elected officials on the devastating impact of multiple system atrophy on the lives of patients, caregivers and their families, and to ask Congress to:

Join the rare disease caucus
Fight for better funding of the NIH in support of rare disease research
Urge the FDA to more efficiently approve orphan drugs
Recognize March as Multiple System Atrophy Awareness Month and October 3rd as World MSA Day
"MSA is a rare and fatal disorder," stated Judy Biedenharn, co-President of The MSA Coalition. "There are fewer than 15,000 Americans currently diagnosed with this disease and perhaps another 35,000 have yet to be diagnosed. As such, it is critical that the MSA community band together to make our collective voice heard. We need Congress to support rare disease causes as approximately 7,000 rare diseases affect more than 30 million Americans. Like too many rare diseases, multiple system atrophy has no known cause and a cure is desperately needed."
"Writing letters to elected officials about multiple system atrophy is a wonderful way to spread awareness and to help ensure our lawmakers keep rare disease research in mind as they pass legislation," continues Mrs. Biedenharn, whose husband Ned passed away from MSA 10 years ago. "In order to encourage a large number of letters from the MSA community, The MSA Coalition is leveraging online tools available through the Rare Disease Legislative Advocates (RDLA) website. The RDLA has established an Action Alert portal specifically for the multiple system atrophy community. The portal makes it easy for constituents to identify their members of Congress and to compose an effective letter. Really, all we need is for as many people from the MSA community as possible to log on and tell their story. The rest is already done."
The Multiple System Atrophy Letter campaign is important for three key reasons:

It is devastating for those with MSA to have the NIH lose its rare disease research funding. Because MSA is so rare, government money for research is critical. No big celebrities are known to have MSA, so it remains an obscure disease dependent on grass roots funding from it own patient base. Unfortunately, MSA can have a devastating financial impact on families making it difficult to donate large sums of money.
Approval of orphan drugs by the FDA remains a slow and uncertain process, which is a true disincentive for pharmaceutical/biotech investors and companies to back orphan drug research. As MSA is one of more than 6,500 rare diseases without a cure, seeing a clear and faster path for orphan drug approvals by the FDA is critical to millions of Americans. As such, it is important for Congress to ensure that the FDA efficiently implement orphan drug legislation passed last year as part of FDA Safety and Innovation act.
Members of Congress should join the rare disease caucus to demonstrate support of so many of their constituents with rare diseases and recognize via resolutions important dates for the MSA community, March as Multiple System Atrophy Awareness Month and October 3rd as World MSA Day.
About Multiple System Atrophy
MSA is a rare and fatal disorder with less than 15,000 Americans diagnosed and 35,000 undiagnosed at any given time. According to the National Institutes of Health, "Multiple system atrophy is a progressive neurodegenerative disorder characterized by symptoms of autonomic nervous system failure such as fainting spells and bladder control problems (neurogenic orthostatic hypotension), combined with motor control symptoms such as tremor, rigidity, and loss of muscle coordination. MSA affects both men and women primarily in their 50s. MSA tends to advance rapidly over the course of nine to 10 years, with progressive loss of motor skills, eventual confinement to bed, and death. There is no remission from the disease. There is currently no cure is available."
About The Multiple System Atrophy Coalition
The MSA Coalition, formerly the SDS/MSA Support Group changed its name on March 1, 2013 in order to better reflect its mission as a 501(c)3 charitable organization representing the multiple system atrophy community. Started as a patient/caregiver support group nearly 25 years ago, the MSA Coalition now has a four-pillar mission:

Supporting patients and caregivers affected by multiple system atrophy
Educating patients, caregivers and healthcare professionals
Financing and encouraging meaningful research toward identifying a cause and finding a cure for MSA
Advocating for issues important to the MSA community, including creating greater awareness
For more information or to donate to The MSA Coalition, please visit: http://www.MultipleSystemAtrophy.org