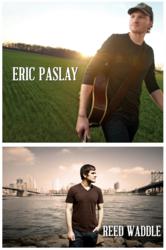 2013 Navarre Fun Fest Headliner Eric Paslay and opener Reed Waddle
Navarre, Florida (PRWEB) March 29, 2013
Singer / Songwriter Eric Paslay co-wrote "Friday Night", performed by Lady Antebellum as well as Jake Owen's #1 smash "Barefoot Blue Jean Night" and penned "Even if it Breaks Your Heart"" for the Eli Young Band, nominated for a Grammy by the CMA for 2012 Best Country Song. Eric has opened for Little Big Town, The Eli Young Band, Jake Owen, Eric Church, Blake Shelton and many others. In 2011 EMI Records signed Eric Paslay to its roster and released his debut single "Never Really Wanted" followed by the 2012 release of "If the Fish Don't Bite".
Destin, Florida native Reed Waddle will kick off Saturday night entertainment as the opener for Eric Paslay. Reed is an award winning singer / songwriter and has opened for or appeared on stage with Hall and Oates, Toad the Wet Sprocket, Shawn Colvin, The Indigo Girls, Mat Kearney, The All American Rejects and many others. In June 2012 he performed at the 39th Telluride Blue Grass Festival before his largest audience ever, after winning the Telluride Troubadour Contest. His album "Creatures of the Heart" reached number 22 on the I-Tunes Singer Songwriter charts prior to his national tour opening for NBC's The Voice winner Javier Colon in March of 2012.
The Navarre Beach Area Chamber of Commerce will hold the 29th Annual Navarre Fun Fest featuring Eric Paslay on Friday, April 26th and Saturday, April 27th on beautiful Navarre Beach, Florida and the event is free to the public. Presented by Santa Rosa Medical Center, it will be a weekend of full of fun for the entire family. Enjoy arts and crafts, delicious food, commercial vendors, a kids play area, entertainment and fireworks. Gates open at 4:00 pm on Friday, April 27th. On Saturday, April 28th gates will open at 10:00 am – Reed Waddle will take the stage at 5:30 pm, headliner Eric Paslay will start at 7:45 pm.
For detailed information on the event, including a full list of entertainment etc. please refer to the Navarre Beach Area Chamber of Commerce online at http://www.navarrechamber.com or the Navarre Fun Fest Facebook page.