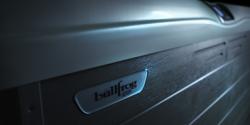 This is the most uniquely designed product this industry has ever seen.
Salt Lake City, UT (PRWEB) April 26, 2013
Bullfrog Spas has unveiled a new look and technology in two lines of all new hot tubs for 2013. The A Series is a sleek full-featured luxury line and the R Series is a quality driven mid-price line. These all new spas are now available locally at Authorized Bullfrog Spas Retailers around the world.
The new Bullfrog Spas have been entirely re-engineered and redesigned with a sleek look and re-engineered hydrotherapy technology called the JetPak Therapy System. This proprietary and patented hydro-massage technology allows the spa user to customize and personalize their hot tub with the jetted massages of their choice.
The look of the new Bullfrog Spas has been entirely re-imagined with a move towards a sleek modern aesthetic that is beautiful and functional. To achieve clean lines and a more modern look Bullfrog has pioneered the use of computerized design technology and flush mounted jets, unique processes in the portable hot tub industry.
Underneath the hood Bullfrog's JetPak Therapy System has revolutionized efficiency in water delivery. The new JetPak Therapy System does away with nearly all of the traditional plumbing, instead using Bullfrog's proprietary H2Air manifold. This engineered water delivery system mixes water and air in the correct proportions in a single chamber and then sends it directly to each jet, thereby creating a more efficient system with little to no piping and more powerful and reliable jets.
Bullfrog Spas' CEO, Jerry Pasley, a hot tub industry veteran formerly of Jacuzzi Hot Tubs and Sundance Spas, called the new Bullfrog Spas "the most uniquely designed product this industry has ever seen."
Benefits of Bullfrog's new 2013 spas are:
1. Ability to completely personalize your spa experience
2. 100% wood-free support structure with a more precise fit and maximum durability
3. New bio-engineered massages provide hydrotherapy in all vital regions
4. Far less plumbing, leading energy efficiency, more power, and legendary reliability
The 2013 Bullfrog Spas with the JetPak Therapy System are available now at your local Authorized Bullfrog Spa Dealer.