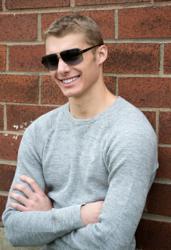 Giving back in the name of our faith is what we're all about. --Jim Schneider, Co-founder and President, Eyes of Faith Optical
Sharon, Pennsylvania (PRWEB) March 13, 2013
Eyes of Faith Optical will debut their latest sunglass styles and colors at Vision Expo East in New York, NY. These new sunglass selections, the recently-launched Not of This World collection, and new additions to the entire family of Eyes of Faith brands, create a solidly diversified and steadily growing product offering. With more multi-generational options in a variety of faith-conscious styles than ever before, seekers of Christian eyewear will find an ever-increasing number of independent eyecare professionals carrying frames with which they can Wear & Share™ a pair of prescription glasses or sunglasses with people in need for each frame purchase.
"Our recent growth with new Eyes of Faith styles and our Not of This World collection represents success for us in two important ways," said Jim Schneider, Co-founder and President. "An expanded product offering has allowed us to introduce the Eyes of Faith family of brands to even more independent opticals across the U.S., and secondly, it means that more practices and their patients are able to give people the gift of sight through Wear & Share. Giving back in the name of our faith is what we're all about."
New Eyes of Faith sunglasses include styles 2005 and 2010, a sophisticated, round ladies shape, and a bold, sporty aviator, respectively. Style 2005 is available in rich "Purple," translucent "Blue," and classic "Black," complemented by a silver-tone, petite version of the signature Eyes of Faith kissing fish temples. A double-pinstripe, lasered cross streamlines each temple of style 2010, available in versatile "Matte Brown" and "Shiny Gunmetal." The latest colors to debut among current Eyes of Faith sunglass palettes include a luxe "Shiny Gold" for aviator style 2001, a cooled-out, triple-layer "Navy" option in wayfarer style 2002 (also great with clear lenses for a retro-chic look), and "Cloud," a creamy, textured white for glamorous ladies style 2006. All Eyes of Faith sunglasses are rx'able, and come with a Wear & Share cleaning cloth, a bookmark to acknowledge the purchaser's Wear & Share donation, and an eco-friendly case that ships and stores flat.
"These new sunglasses and colors are fresh, on-trend looks for upcoming sunny seasons," said Amy Schneider, Co-founder and Vice President of Product Development. "I am proud that this steady growth in our product offering and brand recognition means more patients will find an increased number of locations carrying frames that will allow them to proudly wear and share their faith."
Eyes of Faith Optical was founded in 2008 by husband and wife team Jim and Amy Schneider of West Middlesex, PA, as a way to contribute to the global mission of serving people in need and fill a void within the optical industry for eyewear specifically created with Christians in mind. The Eyes of Faith family of brands includes the Eyes of Faith® house brand, as well as licensed brands VeggieTales®, Not of This World®, and Women of Faith™ (launching Fall 2013). The company's vision for all of its collections is to encourage people to "wear" their eyewear and "share" their faith through the gift of sight—their program Wear & Share® transforms a portion of each eyewear purchase into a donated pair of prescription glasses, readers, or sunglasses that reach people in need via Sight Ministries optical missions around the world.
Eyes of Faith eyewear brands are distinguished among the optical industry for design elements and branding that provide people with opportunities to display and share their faith. The Eyes of Faith collection is made up of classic and contemporary prescription frames and sunglasses that feature the hope-inspired logo or cherished symbols that tastefully communicate faith, such as the cross, stained glass, and ichthys fish.
The VeggieTales Eyewear for Children collection incorporates high-quality, durable components, like titanium memory metal and spring hinges, plus all the VeggieTales patterns and colors kids love. The message "God made you special!" is printed inside every temple, and some styles even feature a hidden Larry the Cucumber in their nose pads. The VeggieTales collection represents a positive message and makes wearing glasses fun.
Eyes of Faith recently released a collection of eyewear for Not of This World® to rave reviews, with ophthalmic frames for teenagers and adults of all ages who love stand-out colors and trendsetting shapes. This line captures the brand's edgy style with multiple variations of the bold NOTW® logo and style names inspired by the scripture printed inside each temple.
To view all Eyes of Faith frames online, visit http://www.eofoptical.com/collection.
For more information about Eyes of Faith Optical or Wear & Share, please visit eofoptical.com.
For more information about Sight Ministries, please visit sightministries.org.
To schedule an interview contact Mandy Stoffel at mandy(at)eofoptical(dot)com or 888.777.9390.