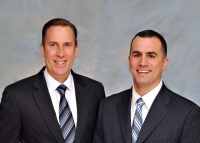 We've been able to build a steadily growing business by focusing on exceptional service to all of our clients, whether they are buying or selling a home
Waltham, MA (PRWEB) March 13, 2013
McGeough Lamacchia Realty was named one of the Boston Business Journal's 2013 Pacesetters, a list of the fastest growing private companies in the state. This year's list includes the 70 Massachusetts companies that recorded the highest three-year growth rate in revenue as of Dec. 31, 2012, with a starting baseline of $1 million.
John McGeough and Anthony Lamacchia, co-brokers and owners of McGeough Lamacchia Realty, say they are proud their company has been named one of the Pacesetters for 2013.
"2012 was a phenomenal year for us," says John McGeough, "Last year we helped over 1000 families across Massachusetts and New Hampshire either buy their dream home or sell their home for top dollar. We expect 2013 to be even better."
In June of 2012, McGeough Lamacchia was named one of the top real estate teams by the Wall Street Journal and Real Trends, and in August of 2012, Inc. Magazine named the company one of the fastest growing companies in the U.S.
"We are both pleased and honored to be recognized by the Boston Business Journal as one of the fastest growing companies in the area, which would not have been possible without our amazing agents and employees," says Anthony Lamacchia. "We've been able to build a steadily growing business by focusing on exceptional service to all of our clients, whether they are buying or selling a home."
The Pacesetters list consists of the region's fastest-growing privately held companies, and singles out companies that have experienced strong growth despite the tough economy. To make the list, a company had to report annual revenue growth of at least 20 percent over a four-year period. In order to qualify for this list the company must be a private company headquartered in Massachusetts and had revenue growth over the past three years.
Earlier this year McGeough Lamacchia Realty announced their company had more home sales in Massachusetts than any other agents or teams, putting the company at the number one spot in home sales for the third year in a row.
Chris McIntosh, publisher of the Boston Business Journal, says this year's Pacesetters "are among the greatest innovators and leaders within a wide variety of cutting-edge and traditional industries, and they are a huge reason why this state continues to be a great place to do business."
Along with the companies named in the list, McGeough Lamacchia Realty will be honored at the annual Boston Business Journal's Pacesetter's event which takes place at the Renaissance Boston Waterfront Thursday, April 25, 2013.
About McGeough Lamacchia Realty:
McGeough Lamacchia Realty Team is the number one Real Estate Team in Massachusetts and named one of the fastest growing Real Estate Companies in the U.S in 2012 by Inc. Magazine. They are a full service real estate agency serving home buyers and sellers Massachusetts and New Hampshire.