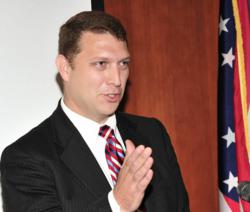 The Powsumer engine, driven by patent-pending technology, will become the new standard in online shopping." -- Andrew Maas, co-founder
Akron, OH (PRWEB) March 21, 2013
Powsumer, a new consumer-driven pricing company, launched a "Powsumer.com: The Future of Online Shopping" campaign on Indiegogo, an international fund-raising platform.
Powsumer is technology-based startup based on a strong patent portfolio, which includes e-commerce group purchasing and group-buying business method patents. Additional search algorithms and seller/buyer confidence-level algorithms are held by Powsumer currently as trade secrets.
"The Powsumer technology will be the most disruptive technology to hit the e-commerce world in the next 5 years," says Andrew Maas, co-founder and experienced in the field of early-stage patent valuation and assessment. "The Powsumer engine, driven by patent-pending technology, will become the new standard in online shopping."
Powsumer technology will allow buyers to specify products they want to buy and will, through a group purchasing mechanism, aggregate other buyers that want the same items. By combining the group power of these buyers, Powsumer will demand lower prices from the suppliers while allowing the suppliers to obtain reasonable margins.
"One of the strengths of the Powsumer patent portfolio revolves around the integration with social media of the shopping experience and the willingness of buyers to share great deals with their friends which, in turn, allows buyers to demand the volume discount," explains Maas.
The $100,000 funding goal will be used to pay for further development and launch of the Powsumer.com beta site. The Indiegogo campaign can be found at: http://igg.me/at/powsumer/x/2593754.
Supporters of the campaign will receive, depending on contribution level, a range of perks from founder certificates and hoodies to a visit with founder Corbin Bernsen.
About Powsumer
Founded in 2011, Powsumer is a consumer-driven pricing site that is enticing to educated consumers everywhere. Powsumer brings together consumers into purchasing groups ("packs") with social and web networks who demand the lowest price for things they want. Powsumer provides distributors, retailers, and manufacturers a conduit to sell at profitable margins.