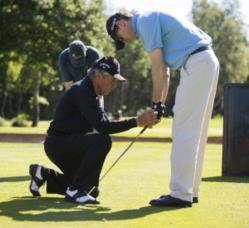 "Being able to add a world renowned golfer of Gary Player's caliber to the Revolution Golf team
is thrilling,"
Nashville, TN (PRWEB) March 26, 2013
"I have had a wonderful time filming with the Revolution Golf team and I am excited to share all the ins and outs on and off the course that helped my golfing career," said Gary Player. "My biggest hope is to inspire viewers to get out on the course, practice the correct techniques to lower their handicap, and most of all enjoy the game."
Player brings his unparalleled knowledge to Revolution Golf's lineup of highly respected players and coaches, which includes top American instructor Jim McLean. The addition of Player is an exciting development for Revolution Golf's portfolio on a global scale. "Being able to add a world renowned golfer of Gary Player's caliber to the Revolution Golf team is thrilling," said Justin Tupper, Revolution Golf Co-Founder and CEO. "The level of fun, entertainment, and education that Gary Player brings to this instructional series will greatly appeal to the more than 1 million current Revolution Golf subscribers and will surely inspire millions of new and long-standing golfers worldwide who are seriously interested in improving their game through lessons on golf technique and life in general from one of the all-time greats."
Covering everything from constructing a solid foundation and his renowned bunker play, to the importance of physical fitness, the premium series and DVD box set will feature Player sharing the extensive knowledge and experience that helped him win 165 tournaments worldwide, including nine Major Championships on the Regular Tour and nine Major Championship on the Champions Tour.
"I've written, hosted and produced over 600 hours of instructional golf programming and I can assure you that working with Gary Player on "A Game For Life" has been one of the most exhilarating experiences of my life," said Peter Kessler, recognized as "The Voice of Golf" and host to golf's #1 iTunes podcast, The Peter Kessler Show presented by Revolution Golf. Because of Gary, this will be regarded as the finest instructional series ever made."
Known for his unbridled enthusiasm, Player will infuse the instructional series with his spirit and wealth of knowledge on all dimensions of the game that will undoubtedly help viewers drastically improve their play. "We are truly excited about teaming with Revolution Golf to create a phenomenal production giving a complete look into Gary Player's three dimensional golf and fitness philosophies," said Marc Player, CEO of Black Knight International. "Revolution Golf offers the best model for instructional multimedia and we are excited to see the finished product as soon as possible." With nearly two million videos served each month, Revolution Golf has solidified itself as a leader in golf instruction by cultivating a global community of golf enthusiasts focused on their continued improvement. In addition to full-length instruction DVDs and daily golf instruction media, Revolution Golf provides users with cutting edge digital media and smart phone applications.
ABOUT GARY PLAYER
Gary Player, often referred to as the Black Knight, symbolizes all that world class golf is or was ever intended to be. A champion in every sense of the word, he has won 165 professional tournaments worldwide and through the philanthropic efforts of his foundation generated over $50 million dollars for the education of underprivileged children. Player, a master of the game, and a world leader in golf course design is credited with shaping more than 325 courses worldwide.
When Gary Player won the US Open in 1965 at age 29, he became only the third golfer to win the Grand Slam, following Ben Hogan and Gene Sarazen. Since then, only Jack Nicklaus and Tiger Woods have added their names to this elite group. Player has, to date, won nine major championships on the regular PGA Tour and nine on the Senior or Champions Tour. He is a three time President's Cup Captain and in 2000 received South Africa's Sportsman of the Century Award.
In addition to his 40 years of golf course design, Player currently serves as the Global Ambassador to the World Golf Hall of Fame and holds an Honorary Doctor of Laws degree from St. Andrews University. His legendary career and humanitarian endeavors have been acknowledged by numerous awards, including the 2012 PGA Tour Lifetime Achievement Award, the 2006 PGA Tour Payne Stewart Award, and the 2003 Laureus Lifetime Achievement Award. Born in Johannesburg, South Africa, Player has circled the globe in pursuit of sporting events, and after journeying over 15 million miles, or 25 million kilometers, he is widely recognized as The World's Most Traveled Athlete™. When not traveling to or from sporting events, Player divides his time between the South African stud farm where he has bred over 2000 winning thoroughbred race horses and his residence on Jupiter Island in Hobe Sound, Florida. For further information, please contact:
Grace Lipscomb, Archivist & Media Coordinator, Gary Player Group
E: grace(at)garyplayer(dot)com or T: +1 864 477 2720
ABOUT REVOLUTION GOLF
With more than 1.8 million videos served per month (60,000 served daily) and more than a million members, Revolution Golf™ is the #1 online Golf learning center in the world. RevolutionGolf.com grows global communities of golf enthusiasts through the daily delivery of fresh video content from a variety of highly respected PGA coaches, most notably Golf Digest's #3 coach in the world, Jim McLean and his exemplary staff. In addition to delivering daily golf instruction media, Revolution Golf produces full-length High Definition golf instruction DVD's and other HD golf related media including motion-picture grade digital shorts, long format HDV teaching series, camera-to-web instant video shorts, and other bleeding edge digital media created specifically for instant Internet and smart phone applications.