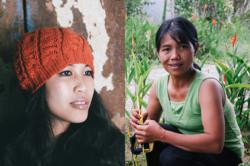 Ricefield Collective can help preserve one of the Philippines' historic landmarks, and ensure that the people who've worked for centuries to maintain the terraces can continue their way of life. -- Vim Nadera, UNESCO Cultural Commissioner
Ithaca, NY (PRWEB) March 19, 2013
Ricefield Collective reinvents tradition with the launch of their Fall '13 Handmade Knitwear Accessories Collection on Kickstarter today. Based in the Philippine Rice Terrace UNESCO World Heritage site, Ricefield gives indigenous women the skills to craft modern knitwear that cannot be duplicated by machines. These knitted hats and cowls can be the key that keeps these women on their land, to preserve the legacy of their ancestors who built the breathtaking terraces.
"Our members think differently," says Meredith Ramirez, director of Ricefield Collective. "Because they farm by hand and their land is in these gorgeous mountains, they value both beauty and labor, and that translates into their knitting."
While on a cultural research fellowship in 2011, Ramirez met a local Ifugao woman named Jean Mundiguing, who told her about her own battle to stay on her tiny piece of land, even though her family had no steady source of income. Ramirez spent the following summer teaching Jean and six other women in her village how to knit, but this number has grown rapidly as many of them teach each other. In a recent phone call, Mundiguing said: "We continue to practice our knitting. We teach our children and our family and we want to show what we can make to the whole world."
To supervise the design of Ricefield's fall collection, Ramirez sought the help of established textile artist and knitwear designer Anna Maltz, whose art has been exhibited worldwide and been the subject of book and magazine features, as well as a documentary segment on PBS. Maltz has recently worked as a freelance designer and consultant, designing for companies such as North Circular and Artisan Yarns. Maltz and Ramirez put together a collection that evokes the rising lines of the Philippine mountains, while remaining fashionable for an international audience.
Maltz notes: "At a time when hand knitting has become less feasible as a livelihood in places like England and the United States, it's amazing to find a group of women on the other side of the world who can keep these traditions of care and quality alive while letting them maintain their own heritage."
Ramirez is the rare combination of someone trained at the most prestigious American schools--Harvard, Cornell, California College of the Arts--but who grew up in a rural Philippine farm, seamlessly bridging cultural gaps. "I trained as an artist and cultural scholar where I developed a modern aesthetic eye, but I also interact with our workers using their language and cultural frameworks." This combination allows Ramirez and her team to train collective members in intricate knitting skills at a rapid pace. And because they work in an area with a low cost of living, Ricefield Collective is able to provide the highest-quality handmade knitwear at reasonable prices while paying its workers a fair wage.
According to UNESCO Cultural Commissioner Vim Nadera: "Ricefield Collective can help preserve one of the Philippines' historic landmarks, and ensure that the people who've worked for centuries to maintain the terraces can continue their way of life."
Ricefield Collective's Kickstarter Campagin can be found at bit.ly.ricefieldcollective and is live until April 19. For high-resolution images and updated information, visit http://www.ricefieldcollective.org/press. To schedule an interview with Ricefield director Meredith Ramirez, please contact meredith(at)ricefieldcollective(dot)org.