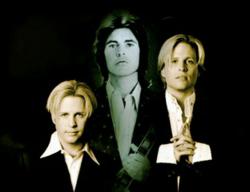 Ricky Nelson Remembered is SO much more than just a concert- it's a labor of love that's developed into an EVENT...
Nashville, TN (PRWEB) January 09, 2013
Celebrity entertainers Matthew & Gunnar Nelson are delighted their popular RICKY NELSON REMEMBERED TOUR is among the top 20 list of most viewed concert tours on PollStar.com as they announce their 2013 tour dates.
With over 43 headline concerts announced already for 2013, "RICKY NELSON REMEMBERED" featuring Matthew and Gunnar Nelson, is a unique multi-media concert event featuring the live music of Ricky Nelson's hit songs (including "Hello Mary Lou", "Travelin' Man", "Garden Party") performed by Ricky's own twin sons Matthew & Gunnar and includes never before seen big screen video footage of the iconic NELSON family with interviews from celebrities influenced by Ricky Nelson. The show appeals to a wide audience and multiple generations and celebrates the life of America's original 'Teen Idol'. Among the 2013 tour highlights announced is their 10th year headlining at Disney's Flower Power Concert series at EPCOT® in March.
"Ricky Nelson Remembered is SO much more than just a concert- it's a labor of love that's developed into an EVENT... and this new stat shows that happy people coast to coast are spreading the word. We're delighted by the growth and popularity of the ongoing tour, and its warm embrace by U.S. audiences and concert buyers," said Gunnar Nelson. "It demonstrates our Pop's music and legacy are appreciated... and are as timely as they are timeless."
"Our grandparents always referred to the entertainment business as the CONNECTION business. Our Pop (Ricky Nelson) and his music continue to do just that- connect people of all ages to their favorite memories, their own desire to never give up, and the love they feel for their own families," adds Matthew Nelson. "I think our love for him shines through, so I am not surprised by the success and growth of the Ricky Nelson Remembered Tour. Not surprised... but thrilled nonetheless."
In 2012, Matthew and Gunnar Nelson performed live at over 100 concerts in America with the RICKY NELSON REMEMBERED TOUR. They are on target to surpass that in 2013.
"RICKY NELSON REMEMBERED" stars Matthew and Gunnar Nelson, the identical twin sons of Rock'n'Roll Hall of Famer Ricky Nelson and grandsons of '50s TV icons Ozzie & Harriet Nelson. When Matthew & Gunnar hit #1 on the Billboard with their rock band NELSON with their self-penned #1 mega hit "(Can't Live Without Your) Love & Affection" it put the Nelson family in the Guinness Book of World Records as the ONLY family in entertainment history with THREE generations of #1 HITMAKERS! With their rock band NELSON, Matthew and Gunnar have (5) Five Top 40 Billboard hits, (4) Four #1 MTV videos and have sold over 6.5 million albums worldwide!
Concert Tour Information
RICKY NELSON REMEMBERED starring Matthew and Gunnar Nelson
Tour dates and information available online at:
RickyNelsonRemembered.com
Facebook.com/RickyNelsonRemembered
Twitter.com/RickyNelsonRemb
About Ricky Nelson
Ricky Nelson has been inducted into the Rockabilly and Rock'n'Roll Hall of Fames and has been honored with two stars on the Hollywood Walk of Fame. Ricky Nelson is the only artist to have a number one song "Poor Little Fool", number one movie "Rio Bravo" and a number one TV show "Ozzie & Harriet" all in same week. Ricky Nelson's "Travelin' Man" music performance montage on TV's longest running sitcom "Ozzie & Harriet" is recognized as the first conceptual music video.
Rick Nelson is credited with co-founding Country-Rock music, and has sold over 100 million lifetime record sales (verified by RIAA). As a singer-songwriter, Rick Nelson's biggest hit was "Garden Party" which was recently honored in the Nashville Music Garden. For more information on the RICKY NELSON REMEMBERED TOUR, visit http://www.RickyNelsonRemembered.com or contact Obi Steinman at (818) 292-8768 or email JHFP(at)aol(dot)com.
RICKY NELSON REMEMBERED TOUR Media Contact:
Melissa Kucirek
Publicity(at)RickyNelsonRemembered(dot)com
####