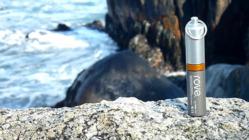 Dartmouth, NS (PRWEB) April 04, 2013
Rove is a small wireless gadget that works with GPS devices and smartphones. It retrieves the GPS data collected while travelling by foot, bike, kayak, car or any mode of transportation. Then Rove sends an image of the trail via a smartphone to a social network like Facebook or Twitter.
"I love geocaching and sharing trails with my family and friends but I was frustrated with having to spend so much time on the computer to upload trails and get geocaches on our GPS," said Jonathan Layes, Rove inventor and CEO of Sparkyard. "I looked for a way to connect two gadgets that I always carried with me on hikes or paddling trips - a GPS and a smartphone - and invented Rove when I couldn't find an existing solution."
Layes described geocaching as high-tech treasure hunting. People hide small containers anywhere, often along hiking trails, and post the GPS coordinates online so that other people can search for them with hand-held GPS devices.
Rove eliminates the step of looking up coordinates on a computer and manually entering them into the GPS device. When plugged into the GPS, Rove wirelessly enters the data making it easier for people to hit the trails anytime, anywhere.
"I'm a technophile and even I find GPS devices can be difficult to use," said Mr. Layes. "Rove is so easy to use, a five-year-old can do it. It makes for great family adventures as well as treks with friends and solo ventures."
Sparkyard, a Dartmouth-based IT start up company, is manufacturing Rove in Atlantic Canada. The company has launched a crowdfunding campaign on Indiegogo to raise money for increasing production. Crowdfunding is a way for companies to fundraise online, often with a large number of people contributing small amounts.
More information about Rove, a video on how to use it, and a link to the crowdfunding campaign are available at http://www.gorove.com.