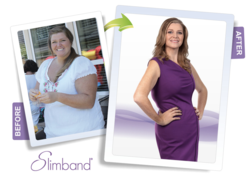 "Our research into the obesity crisis continues to show that it affects all aspects of people's lives, from mental health to employment prospects,"
TORONTO, Ontario (PRWEB) January 16, 2013
According to a recent survey by Virgin Mobile, 51% of Canadians make New Year's resolutions, but more than half abandon them after just one month. Healthier living continues to be a leading goal, with 30% resolving to exercise more, lose weight or eat better in 2013.
Meanwhile, the obesity crisis continues to worsen. According to a 2011 study by Statistics Canada, 24.1% of adults were obese between 2007 and 2009. Obesity rates jumped about 10% for men and 8% for women from levels seen between 1986 and 1994.
Slimband recently conducted a number of online surveys examining what should be done to deal with this fast-growing problem. These surveys attracted responses from hundreds of Canadians who identified themselves as both obese and non-obese.
The health impacts of obesity are serious and widely acknowledged. But the problem goes much deeper. Here are just a few of the surprising responses the Slimband surveys returned:

Obesity poisons interpersonal relationships: Of the 918 respondents who answered this question, 79.1% said their weight negatively affects their relationships with the people they're closest to, such as family, friends and co-workers.
Employers see overweight workers as lazy: A strong majority—80.6%—felt that managers see obese employees as less productive than other workers. That vastly increases the odds of being passed over for raises and promotions. According to a recent study by Tennessee State University economists Charles Baum and William Ford, obese men and women can expect to earn 1% to 6% less than other employees.
Nutrition labels are getting attention: There were a few rays of sunlight in the results that Slimband uncovered. For one, more Canadians are reading—and paying attention to—the nutrition labels printed on food containers. A full 83.0% read these labels, and 52.3% said they do a good job of letting consumers know what's in the food they eat.
Key education programs continue to resonate: Canada's Food Guide and ParticipACTION, two fundamental government efforts to promote healthy living, remain popular: 94.5% of respondents were familiar with Canada's Food Guide, while 69.4% knew about ParticipACTION, which promotes regular exercise. More than 60% felt Canada's Food Guide was effective, and 50.5% gave ParticipACTION a passing grade.
"Our research into the obesity crisis continues to show that it affects all aspects of people's lives, from mental health to employment prospects," said Slimband CEO Michael Scott-Smith. "That makes swift action to control the problem all the more important. At Slimband, we're determined to play a leading role in tackling obesity using the wide-ranging expertise we've developed during our long history in the weight-loss business."
About Slimband
Slimband is Canada's premier weight loss group, specializing in reversible laparoscopic weight loss surgery with a unique 5-year aftercare program that includes nutritional counseling and coaching. Clients benefit from safe, long-lasting weight loss, increased energy levels and, in many cases, the control or elimination of weight-aggravated conditions like sleep apnea and type 2 diabetes. Slimband has helped more than 6,000 clients realize their dreams of losing excess weight and feeling their best.