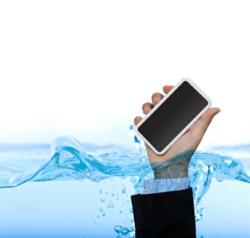 the one thing we see far too often is a lack of any real plan in place to deal with devices like smartphones and tablets
New York, NY (PRWEB) March 13, 2013
Last week, IDC (International Data Corporation), a leading market intelligence and research company, revealed that expectations for smartphone deliveries in 2013 are expected to come close to a staggering one billion units. To give that number some perspective, it would be enough to put a smartphone into the hands of more than one out of every eighth man, woman or child living on the planet. Couple that with the deluge of businesses diving into the BYOD (Bring Your Own Device) pool to increase productivity, connectivity and convenience, and it is a phenomenon, "that has to be on the radar from both a cyber security perspective, as well as an electronic discovery perspective, for every organization "plugged in" to the digital world today," says Joe Caruso, CEO/CTO of Global Digital Forensics (GDF).
Coming Soon to a "Smaller" Screen Near You
"As soon as mobile devices got good at bringing the Internet experience to small screens everywhere, it was just a matter of time before the problems that have always plagued PCs and networks found a foothold there too. And although they hail from different ends of the digital spectrum, it's something both an organization's security arm and their legal arm have to reckon with. By that I mean security departments dealing with malware threats specifically designed for mobile technologies, including threats that can often jump the device barrier for cross-platform infection thanks to wireless networks or Bluetooth connections, and the potential treasure trove of digital evidence which can come from these devices, like email, texts, call logs and even global positioning information, which can be essential during the electronic discovery (eDiscovery) phase pertaining to a legal matter. Not being ready, willing and able to cover those bases can lead to situations with devastating consequences for any business, no matter how large, or how small. But there is help available to help tame the mobile device beast. With our foundation in computer forensics and emergency incident response, we're no strangers to dealing with smartphones and tablets and applying our wide breadth of knowledge and experience to assist clients in both the cyber security and eDiscovery worlds that relate to them." Caruso said.
Mobile Devices can give you Wings, But you Have to Learn How to Fly
"Whether it's about cyber security, or legal matters and the related eDiscovery, when we respond to client situations, the one thing we see far too often is a lack of any real plan in place to deal with devices like smartphones and tablets. And that's a real problem when it comes to the growing prevalence of BYOD arrangements that many employers and employees are trying to navigate for the first time. So when we get called in to do a cyber threat assessment and penetration test, for instance, the first thing we do is review any standing policies and procedures relating to cyber security to make sure they are strong and up-to-date to face today's threats, and today that must include smartphones and tablets. Then we work with the client to remediate any deficiencies in their existing plan and/or implementation, or help them create an effective one in the event that none exists. We can also assist clients with training personnel on best practices and how to minimize security threats that may find their way into an organization by means as seemingly innocuous as a smartphone or a tablet."
"On the eDiscovery side of the house, we help legal departments, lawyers and law firms leverage the maximum benefit from the plethora of evidence that can be derived from mobile devices, be it communications like webmail, email, texting and social networking, or time-stamped geographic data that can be used to construct a valuable timeline relating to the particulars of the case. For example, last year we helped in a child pornography case by being able link a suspect to a location where the vile pictures were taken thanks to positioning information his smartphone supplied in the metadata of the actual image he took, destroying a whole slew of lies the suspect was telling investigators up to that point. We know the tricks-of-the-trade and we help legal counsel realize the full potential of digital evidence every day. It's what we do, and we do it well."
So when smartphones, tablets and other digital devices are at the heart of the matter, look no further than GDF's proven track record of helping clients avoid the inherent problems that come along with them, while helping maximize the enormous benefits they can provide.
*Global Digital Forensics is a recognized leader in computer forensics, with plenty of eDiscovery and cyber security experience under the hood as well. To speak with a digital evidence specialist about a matter involving Electronically Stored Information (ESI), or to get assistance with developing a full service plan tailored to suit your unique situation and needs, call 1-800-868-8189 anytime 24/7. You can also visit http://www.evestigate.com for more information.