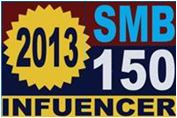 We opened our doors just before September 11th, 2001 and found a way to focus on helping our SMB customers succeed regardless of the challenges. The result was double-digit growth for each of the years we've been in business.
Hoboken, NJ and NYC, NY (PRWEB) March 22, 2013
eMazzanti Technologies, IT support and computer consultant for the Hoboken, NJ and NYC areas, has been selected as one of the winners in the 3nd annual 2013 SMB Nation 150 Awards. The annual event recognizes top leadership in the information technology (IT) industry worldwide and is a collaboration between SMB Nation, SMB Technology Network and Research In Motion.
"For more than 12 years, we've been a major IT player in SMB space in the greater NYC area," said Carl Mazzanti, CEO, eMazzanti Technologies. "We opened our doors just before September 11th, 2001 and found a way to focus on helping our SMB customers succeed regardless of the challenges. The result was double-digit growth for each of the years we've been in business."
Harry Brelsford, founder and chairman of SMB Nation, congratulated eMazzanti Technologies, along with the other SMB 150 nominees. "The SMB 150 honors individuals who have made a significant impact on the worldwide small and medium business (SMB) channel. In phase I, you nominate influencers. In Phases 2 and 3, you and an all-star judging panel will vote for the top 150. It all culminates with honoring the SMB 150 Influencers on May 4th during the SMB Nation Spring Conference in Redmond, WA on the Microsoft campus."
Selection Process
The first phase of the award's selection began with online community voting, open to anyone at smb150.com. Visitors voted for candidates up to once per day. Open voting lasted until January 18, 2013, at which point a panel of industry experts certified the online ballots and cast their own votes for nominees. Community voting counts for 40% of each nominee's score, with the remainder determined by the expert panel's votes.
Awards/Ceremonies
The top SMB 150 Influencers at the conclusion of voting, were, like eMazzanti Technologies, named to the 2013 SMB 150 Influencers' list, along with the recognition that comes with being named a 2013 SMB 150 winner. Additional recognition includes publicity as a winner, as well as the right to display Winners insignias on books, websites, brochures and elsewhere. Winners will also receive an awards plaque.
In addition, SMB 150 nominees will receive a complimentary SMBTN Community membership and SMB 150 winners will receive a 50 percent discount toward an optional SMBTN Business membership.
About SMB Technology and SMB Nation
SMB Technology: The SMB Technology Network has its roots in partner groups focused on IT solutions & services for the SMB (Small Medium Business) space. Currently, over 600 partners are registered or business members. Our focus includes Windows platforms including SBS (Small Business Server). Jim Locke formed the Los Angeles SMB User Group in 2004. He then united with additional groups across the country. Each group holds monthly meetings to discuss the latest small business trends. In addition, the group has partnered with Microsoft at Connections and TS2 events, further penetrating the SMB space.
SMB Nation: SMB Nation is a publishing and events company, targeted at the small and medium business (SMB) channel partner/reseller/consulting/VAR community. SMB Nation spreads the knowledge of SMB technology trends through its conferences, books, SMB PC magazine, online services, and world-wide seminars, workshops and accredited Pocket MBA certificate (an academic partnership with Aspen University). As an active participant in the technology community, SMB Nation has a long history of enthusiastic advocacy and evangelism. The SMB Nation tribe exceeds 45,000 followers worldwide.
About eMazzanti Technologies
With a company name that sounds more like a purebred, high-performance sports car than a IT support and consulting firm, eMazzanti Technologies is all about delivering powerful solutions such as Windows 8, managed printing services, PCS DSS compliance, computer network management, network troubleshooting,business continuity and disaster recovery, green computing, Outsourced IT, mobile workforce technology, information security, cloud computing, cloud computing services, and business information optimization in the most efficient manner possible. The Hoboken, N.J., firm is located in one of the most densely populated - and competitive - regions in the U.S. It provides business technology consulting services for companies ranging from home offices to multinational corporations throughout the New York metropolitan area, the United States and throughout the world. For more information contact: Carl Mazzanti 201-360-4400 or emazzanti.net. Twitter followers can get additional information @emazzanti. And Facebook followers can quickly get the information at: Facebook.com/emazzantitechnologies.