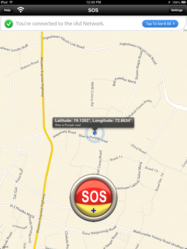 Brilliant - Just what I've been looking for. Thank you. Works perfectly.
-App Store Review
Mystic, Connecticut (PRWEB) March 08, 2013
SOS My Location is a one touch safety app. Smartphone users, both Android and iOS, can use the app to broadcast the current location to pre saved contacts in the app. Its a useful tool to have in a distress situation. The app allows automatically calls one of the emergency contacts. A voice or video clip can also be sent as an email attachment along with the current location to all the emergency contacts saved in settings.
This app has set high standards which today's women deserve. Thousands of users worldwide are using this app.
The app is free to download and try!
● App Store Review
"Works perfectly - Awesome app, Works perfectly, as we found out when I accidentally sent an SOS out to my sister. She called the police and gave them my location, they were around in minutes, oops. Good to see it worked, next time it might be real! Top marks from me!"

Pocket Frog Rock (Australia)
● iTunes store link:
http://itunes.apple.com/us/app/sos-my-location/id482954683?mt=8
● Google Play Link
http://play.google.com/store/apps/details?id=org.i2e.sos
● Website Link:
http://www.sos.i2econsulting.com
i2e Consulting is a software services company providing innovative enterprise solutions to clients across the globe. i2e Consulting Mobile division is developing enterprise innovative apps on iOS, Android and Windows platforms.