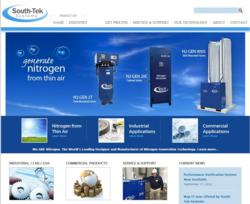 Our goal is to connect with current and new customers in a way that makes it clear and easy for them to find the Nitrogen Generator system ideal for their operation...
Wilmington, N.C. (PRWEB) June 11, 2013
South-Tek Systems, a company dedicated to the engineering and manufacturing of Nitrogen Generators, announces the relaunch of its website at southteksystems.com.
The website was first launched in 2004 as a way for customers and potential customers to gain more information about the company, originally founded in 1997. The site was redesigned in 2006 and again in 2008 to provide more contemporary designs as well more information for the user regarding both the company and their Nitrogen Generator products. Today's relaunch unveils a complete overhaul of the website to provide a comprehensive representation of the commercial, industrial, laboratory, and Government Services Agency (GSA) Nitrogen Generator products.
Visitors to southteksystems.com are now able to navigate the website according to their own industry or by specific product. The team at South-Tek Systems has compiled a wealth of information regarding the various applications for Nitrogen gas in industrial and lab settings as well as in business-to-business and business-to-consumer commercial applications including fire protection, beverage service, automotive and tire filling. Visitors are directed to identify the industry and application that best suits their needs. They will learn more about how N2 gas is used for that application and the specific benefits of installing a Nitrogen Generator as the source for producing high purity Nitrogen gas on-demand at the point of process.
Visitors to the website who are already familiar with South-Tek Systems' Nitrogen Generator products can navigate directly to the page dedicated to the product they would like to learn more about. From there, they will find details, photos, and links to download current brochures.
The website also offers extensive information about the technology used in the Nitrogen Generator systems and the engineered solutions provided by South-Tek Systems for monitoring, optimization, and support.
Customers and potential customers are encouraged to contact South-Tek Systems to obtain pricing, further information, service and support - all of which can be done through the website.
"We are extremely proud of this latest, enhanced version of our website," comments Industrial Sales Manager Charles Metzler. "Our goal is to connect with current and new customers in a way that makes it clear and easy for them to find the Nitrogen Generator system ideal for their operation, whether it's a power plant, medical facility, nanolab, or a restaurant with draft beer service. We have the affordable, reliable Nitrogen gas solution for any application."
Learn more by visiting http://www.southteksystems.com or call 888-526-6284.
About South-Tek Systems:
South-Tek Systems is an engineering and manufacturing company dedicated to Nitrogen Generator systems that are the affordable, efficient, and reliable solution for any Nitrogen gas application. The company was founded in 1997 and has developed the patented N2GEN® Series Nitrogen Generators for industrial, lab, and military applications as well as turnkey commercial products targeting the fire protection, restaurant and bar, automotive and tire filling, smoke simulation, and transmission line industries.