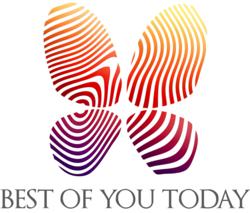 Love and judgment cannot be present in the same space. Learning to embrace who you are will expand your capacity for love and acceptance of others.
San Diego, California (PRWEB) March 12, 2013
The Best of You Today knows these things to be true: negative judgments can impact a person's life and the lives of those around that person, and living with a large number of tolerations can make room for such judgment and create obstacles. The Best of You Today also believes this to be true: the negative judgments and the tolerations can be resolved. The thriving online community conceived for women all over the world recently released a video addressing this very purpose. Entitled "How To Build A Healthy Relationship — Controlling Judgments and Tolerations," the video aims to enlighten viewers about the four levels of judgment, the impact of living with tolerations, and the keys to having good relationships.
According to The Best of You Today video narrated by founder Mojgan Rady, the four levels of judgment are active judgment (level one), allowing judgment (level two), embracing what was once judged (level three), and a neutral state of observance (level four). The video goes on to clarify a few points about each level, indicating that level one could create negative energy whereas level three could lead to positive energy.
"Once you truly accept all that has happened in your past," Rady explains about level three, "you receive the gift of empowerment… This form of judgment carries a positive form of energy."
As for level four, the state of observing, Rady elaborates, "You are not resisting or allowing. You have no positive or negative energy. You're very neutral and the observer in you is simply watching without any form of judgment whatsoever."
Rady narrates, "As you begin to recognize the four levels of judgment, your thoughts will shift in various states throughout the day. It's important not to judge your thoughts. The process of acceptance is a gradual shift in the direction of embracing all that it is, and observing in a non-judgmental way."
The Best of You Today video moves on to the issue of tolerations, which can present formidable challenges to establishing boundaries in relationships. The online community has previously indicated in other videos and guides that asserting boundaries is necessary in building healthy relationships, whether it's professional or romantic in nature.
Described as "something that you put up with," toleration could be as trivial as putting up with a disorganized work environment and as vital as bearing with an overly critical or judgmental romantic partner. The Best of You Today has found that living with a large number of tolerations could mean living in a state of judgment and battling with constant obstacles.
According to Rady, "Accepting tolerations in your life invites in an opportunity for judgment because, if things are in sync throughout your life, there is little to be unhappy with. If tolerations remain, they offer a constant reminder, both consciously and subconsciously, the life of imbalance for you."
To stop reinforcing negative beliefs, Rady recommends, "Living authentically, aligned with your purpose, and accepting all of the many talents that you possess discourages negative judgment of yourself and others… When judgment is eliminated, abundance will appear."
Rady further adds, "Love and judgment cannot be present in the same space. Learning to embrace who you are will expand your capacity for love and acceptance of others."
However, The Best of You Today video also clarifies that while judgment is deemed as a negative reaction, when used as a tool for self-reflection it can be immensely helpful. Rady has found daily meditation to be very effective in achieving this result. "Moments of silence and meditation, invite clarity and direction, " she remarks.
Apart from daily meditation, Rady has also found asking questions to herself about behavior and criticism to be highly beneficial for positive self-reflection. To know the rest of Rady's guided questions, her steps to a toleration-free zone, and to learn further resolutions to roadblocks against building healthy relationships, watch the short video in full through here: https://www.youtube.com/watch?feature=player_embedded&v=8vX783LLZf4
The Best of You Today is the brainchild of Mojgan Rady. Rady has developed one-of-a-kind products designed to encourage women to be at their true, radiant best. Her online community also publishes new and informative content, from how-to articles on what makes a good relationship to inspirational videos on living a good life. The website also features in-depth interviews with therapists and articles on fitness, nutrition, style and beauty, self-growth, a section on moms with tips from experts, vegetarian and raw food recipes, and information on a wide range of diets. To get inspiration and motivation, visit The Best of You Today's website.