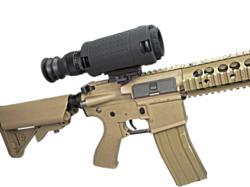 The T14x is the scope I have been waiting for
Las Vegas, NV (PRWEB) May 29, 2013
SPI Corp is a leading provider and manufacturer of thermal scope technology to Military and Law Enforcement Operators. Leveraging years of thermal imaging experience, they are now dedicated to bringing low cost thermal scope solutions to everyone.
"The T14x low cost thermal scope project is very important to us". Stated Randall Kolchins, Director SPI CORP. "We knew that there was a market among the general public that needed an affordable thermal rifle scope solution". Mr. Kolchins went on to say "We also knew that we had the experience and knowledge to make a low cost thermal scope a reality. It was a lot of work but we are proud to offer the T14x to our customers".
Thermal scopes are electronic devices that "see" heat energy rather than visible light. They are typically mounted to a rifle and used in a similar way to a common rifle scope. The main advantage of the thermal scope is that it can "see" in the dark without the need for any ambient light. Thermal imaging technology was designed for the US Military but has recently found its way into Law Enforcement and commercial applications. Thermal scopes are now highly desired by hog hunters and disaster preparation enthusiasts.
"The T14x is the scope I have been waiting for" explains Jim Santana, Sales Manager SPI CORP. "$3,995 for a scope that can mount on a rifle, record video and be used as a handheld is unbelievable. I have customers lined up waiting for delivery. We are just barely keeping up with the demand." SPI ships the scopes out of their Las Vegas, Nevada facility and provides full support and repair services. They are encouraging customers to contact them in order to reserve their unit.
US Citizens are able to purchase thermal scope systems but many fear that this will change in the near future. Industry insiders fear that the next target of anti-gun legislation may be thermal rifle scopes. SPI Corp says that they are dedicated to providing this life saving technology to the public for as long as they are allowed to do so.
SPI Corp has been in the business of manufacturing and distributing thermal scope and thermal imager solutions for well over a decade. Existing products include the T14x scope, M5 pan tilt systems and the M1-D UAV thermal PTZ as well as RAZ-IR infrared cameras.
Potential customers interested in learning more about the T14X Thermal Scope or for purchasing options including the entire line of low cost thermal imager solutions offered by SPI Corp can visit http://www.x20.org. Customers seeking immediate attention regarding these products should contact Jim Santana at 702-369-3966.