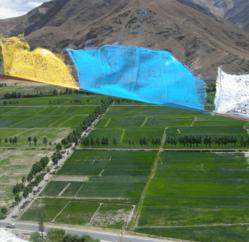 What shall I buy from Tibet as gift to my friends or Mom and Dad?
(PRWEB) March 06, 2013
Travelers on a Tibet tour will have many opportunities to buy Tibetan cultural items as well as all sorts of arts and crafts! Tibet Ctrip Travel Service-TCTS has released newly updated information about what kinds of souvenirs can be purchased in Tibet. Everything from jewelry to prayer flags and prayer wheels can be found in markets like Barkhor Bazaar or the Tibetan market in Shigatse. Some of the most popular souvenirs include:
Tibetan Carpets: These beautiful carpets are woven with bright colors and come with a variety of different patterns. Typically, they are very durable carpets woven from wool. Travelers interested in purchasing a Tibetan carpet are advised to plan ahead by taking time to gain a more in depth understanding of they materials that are used and how they are made.
Tibetan Thangka: A Thangka is a scroll painted with bright colors, usually carrying a religious theme. Many Tibetans buy Thangka featuring motifs of Tibetan Buddhism, deities, or important historical events. Sometimes Thangka are adorned with jewels such as pearls and they can also be made from cloth or silk to be hung as a tapestry.
Prayer Flags and Prayer Wheels: These items can be purchased in souvenir shops all over Tibet and are great to bring home as gifts. Prayer flags can be seen all over Tibet hanging on rooftops and mountains. Each individual flag has a mantra (prayer) printed on it, Tibetans believe that the prayers are carried out on the wind blessing people below. Tibetan pilgrims walking around important cultural sites such as Jokhang Temple or Potala Palace spin hand held prayer wheels. Similar to prayer flags, prayer wheels are inscribed with prayers and spinning them has the effect of praying or chanting a mantra.
Among those who travel Tibet, these are some of the most popular items. When purchasing valuable souvenirs like jewelry or Tibetan carpets, travelers are advised to inspect the item closely to ensure that it is authentic. It may be a good idea to seek advice from a native Tibetan guide before making these kinds of purchases. In general Tibetan owned shops provide the highest quality for the lowest price. To ensure travelers are satisfied with their purchase and to keep money in the Tibetan community, TCTS encourages shopping at Tibetan owned establishments. For more information, travelers can visit Tibet Ctrip's newly updated tips for shopping in Tibet!
Devin Moore, author of this release, is a travel writer and independent economic analyst based in Springfield, Missouri USA. Devin enjoys travelling throughout Asia and his economic research is currently focused on airfare pricing. In partnership with local Tibet travel agency TCTS (tibetctrip.com), Devin publishes Tibet travel related information in order to spread awareness of Tibet and its people.