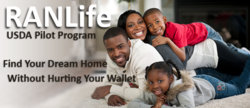 I would refer anyone with a USDA loan to RANLife Home Loans.
Salt Lake, UT (PRWEB) March 20, 2013
RANLife Home Loans is a DE Direct mortgage lender that utilizes government programs, such as a U.S. Department of Agriculture (USDA) loan, to help achieve the dream of home ownership for many. Just over a year ago, RANLife started offering the USDA Pilot Refinance program, which allows homeowners participating in USDA's direct and guaranteed loan programs to refinance their mortgages with lower interest rates and more lenient guidelines. With the new changes recently released by the department, borrowers from 15 additional states and Puerto Rico will now be eligible for assistance under this initiative, giving RANLife an opportunity to assist more homeowners across the country.
One of RANLife's recent USDA Pilot refinance clients, Mark Fullington, is a perfect example of the savings that can be accomplished with this program. Mark had gone to several lenders looking to refinance his USDA loan but was immediately turned down by several due to his loan to value (LTV). Desperate to refinance and lower his 5.5% interest rate, he searched for a lender that specializes in USDA loans.
With the help of RANLife and his loan officer, Gene Johnson, Mark was able to save over $130/month on his mortgage payment and was able to reduce his interest rate into the 3% range. "I would refer anyone with a USDA loan to RANLife Home Loans," Mark stated after everything was said and done.
Mark is not the only USDA homeowner that can benefit from this program. It is estimated with the new changes that 235,000 borrowers of USDA loans are eligible for the USDA Pilot Refinance, giving almost a quarter of a million people the opportunity to take advantage of the country's all time low rates.
Out of the 17 states that RANLife services, all but two are now eligible for the program. In talking to Vice President of Sales, Adam Hamilton, he stated, "these changes make it simple to target past clients we've already assisted as well as current homeowners that fit the program guidelines to enable them fast savings with better ease than ever before."
Effective February 11, 2013 the following states will now be eligible for the USDA Pilot Refinance Program: Alaska, Alabama, Arkansas, Arizona, California, Colorado, Florida, Georgia, Idaho, Illinois, Indiana, Kentucky, Kansas, Michigan, Missouri, Mississippi, Montana, North Dakota, Nevada, New Jersey, New Mexico, North Carolina, Ohio, Oklahoma, Oregon, Rhode Island, South Carolina, South Dakota, Tennessee, Texas, Utah, Washington, Wisconsin, and West Virginia.
As with all home loans and refinances, the USDA Pilot Refinance has minimum qualification standards. To qualify for a USDA Pilot Refinance, you must meet the following eligibility criteria:
The home you're refinancing must be your primary residence.
Prior to your application date, you must have made your last 12 USDA home loan payments on-time.
The home must be in a qualifying state.
To help streamline the refinancing process, borrowers do not need new credit reports, property inspections, or appraisals, though every company can still have their own specific guidelines.
Though the USDA Streamline Refinance program is a pilot program, there is a good chance it could become permanent. Two years from now it will be reviewed to determine whether the program should be extended, terminated, or made permanent. If you have a USDA mortgage and live in one of the 19 pre-approved states, make sure to call RANLife today to see if you qualify to take advantage of USDA's excellent mortgage rates and RANLife's outstanding customer service.
Founded in 2001, RANLife Home Loans is a Salt Lake, UT, based mortgage lender that provides a fast, personalized solution to obtaining a home loan or refinance. Great service, with great rates. This is RANLife's commitment we provide to all of our customers. For more information on RANLife Home Loans, please visit http://www.ranlife.com/index.php