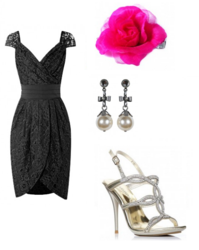 (PRWEB UK) 22 March 2013
LittleBlackDress began as the biggest collection of black dresses in the world and while the online retailer now stocks hundreds of dresses in lots of different colours and styles the brand still champions the classic LBD, even for weddings…
Wedding guest dresses have always been subjected to a rather stringent set of rules: nothing too sexy, nothing white, nothing lacy, nothing that might upstage the bride. Forget old fashioned wedding etiquette, black is back when it comes to dresses for wedding guests.
GRECIAN GODDESS
A full-length black dress for a wedding doesn't have to mean Morticia Adams. It can in fact mean girly Grecian drapery, figure-forming ruching and an excellent choice for a wedding, whatever the season or weather. A long black wedding guest dress by Gorgeous Couture gives the illusion of a godly figure and shows off your shoulders and SS13 fashion knowledge. Turquoise accents and gorgeous gold feather headband take the edge off of block black and instead reference the sunny shores of Crete.
MONOCHROME MANIA
S/S13 has fallen in love with monochrome, a two-tone style that has long been championed by the effortlessly chic streets of Paris. And if it's good enough for the pioneers of style then it's good enough for a best friend's wedding! An A-line Georgia dress creates the illusion of a enviable hourglass shape and plays with Breton stripes so popping on a beret headband simply completes the look.
LACE LOVE-IN
Black lace dresses can often lean too far towards the funeral side of fashion and yet with the right accessories it can be wedding guest dressing perfection. Classic pearl earrings and look-at-me diamanté encrusted sandals will give a sexy Señorita lookcome the after-party.
BRIDESMAID BEAUTIFUL
Can't quite handle a full on pastel prom dress for the bridesmaid dress duties? Well, if the choice was frol Little Black dress the Motto would be, paint it black! This is the easiest way to wear the full-on, frilly and feminine design as it is still fun and flirty but doesn't give the look of some one comming from a costume party. And the occasion-worthy dip-hem and over-sized bow on the reverse will keep the bride happy. Why not liven it up for summer with a pair of fantastic orange platforms and oriental earrings.