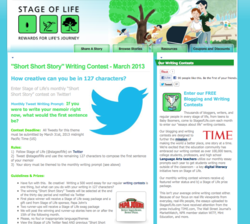 "Our new contest on Twitter is a great way for people who love to write and be creative, but may not have time to enter our traditional writing and blogging contests on StageofLIfe.com" --Eric Thiegs, Founder and CEO
York, PA (PRWEB) March 31, 2013
StageofLife.com, an educational and writing resource for high school teachers, students, and bloggers rolled out a new monthly writing contest using Twitter.
For the current contest, the Stage of Life writing prompt asks, "If you were to write your memoir right now, what would the first sentence be?"
Interested contest participants simply need to visit the Stage of Life's "Short Short Story" Twitter Writing Contest page to view the contest rules and then Tweet their 127 character (or less) submission to @stageoflife to enter.
"Our new Twitter contest is a way for people who love to write and be creative, but may not have time to enter our traditional writing and blogging contests on StageofLIfe.com with a 500 word essay." said Eric Thiegs, StageofLife.com Founder and CEO,
Thiegs went on to say that he wanted to give people a creative choice. "Only have five minutes? You could play a mindless online game while you're waiting at the dentist office...or you could enter a national writing contest." Thiegs continued, "This is why we launched the 'Story Story Story' concept - we want to get people writing - and Twitter is helping us do that."
Since 2009, Stage of Life has seen thousands of writers, bloggers, and students participate in its grassroots, education-focused writing and blogging contests with essays and blog posts. The new Twitter contest is an evolution from the blogging and digital literacy initiative that the site has been focused on for the last few years...and it's working.
Since the launch of its writing contest on Twitter in February 2013, StageofLife.com has experienced a 238% growth in Twitter followers over the last two months from the previous two month period.
StageofLife.com also hosts a variety of writing resources for high school Language Art teachers, college professors, home schooling parents, and students.
Current educational resources include...
--National essay and blogging contests
--Writing prompts
--Mentor texts
--Lesson plans about blogging
--Common Core mapping for blogging in Language Arts curriculum
--Free writing contest classroom poster
--Teen trend reports
--Statistics about teenagers
--Goal setting
--Library resources
--Financial literacy articles
--Digital literacy information
--Inspirational videos for teachers and teens
--Poem writing tips
--Coupons for teachers
For more details or to entry the StageofLife.com "Short Short Story" contest on Twitter, visit http://www.stageoflife.com/Writing_Contests/TwitterWritingContest.aspx for instructions and this month's writing prompt.
Stage of Life selects one winner, two runner's up, and several finalists each month from all of the Tweeted submissions. The winning "Short Short Story" Tweet owner receives a prize package from Stage of Life that includes a gift card from Stage of Life literacy and education sponsor, Papa John's.
# # #
StageofLife.com is a privately held company with a literacy mission to encourage life-long readers and writers through its blogging community designed for all generations, from teens to Baby Boomers.
Since 2009, StageofLife.com has welcomed over half a million bloggers, writers, and readers from over 100 countries who have come to read or share stories. The site was founded with a grassroots mission to make the world a better place by becoming a writing and blogging resource for all generations. It hosts over 5 million words from thousands contributing writers and has grown into one of the largest multi-generational online communities on the web.
The site features free educational resources ranging from writing contests, blog resources, Language Arts lesson plans about blogging, goal setting worksheets, writing prompts, coupons for teachers and students, and more.
You can reach StageofLife.com by contacting Founder and CEO, Eric Thiegs, via email at contact(at)stageoflife(dot)com.