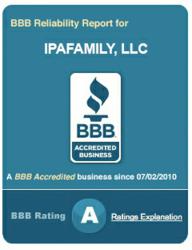 At IPA we pride ourselves on the fact that our primary customer is our sales force, and if they are treated with integrity, respect, and encouraged to capitalize on our culture, then everything else that is important to building a company works out.
Tampa, FL (PRWEB) March 21, 2013
IPA Family, LLC (IPA), a member of American Independence Corp. (an organization comprised of Independence Holding Company, Inc., and its operating subsidiaries), is pleased to announce its accomplishments of 2012. It comes as no surprise to the organization that the year proved to be its best year to date. IPA has achieved year over year growth since its inception and are very excited about what their future holds.
IPA held its annual Board of Directors meeting in December 2012 in New York City, which highlighted several key factors of accomplishment and future growth including, but not limited to:
--Increased profitable premium, which directly impacts the quality of their organization through performance.
--Enhancement of its product portfolio providing six new products. The products provide more diversity in consumer options including zero deductibles, more benefits that meet budgets, simplified underwriting criteria and options for people who cannot afford traditional coverage.
--Additions of new ancillary products such as critical illness, term life insurance with living benefits, and pet insurance.
--Increased commissions on some product lines to its agent advisors.
These enhancements, coupled with state-of-the art training technology, provides a win-win for consumers in the marketplace and IPA agent advisors who represent the products and services. Sondra Bradley, National Training Leader commented, "Most agent advisors who contract with IPA are blown away by the training that is provided and are simply not used to getting that support from the company they are coming from." She goes on to say "IPA constantly moves aggressively to stay ahead of the marketplace trends, implementing reform laws, providing innovative products to meet consumer budge and needs, as well as implementing technology enhancements which allow our field force the best training experience and sales tools they can get in our industry!"
Based upon these accomplishments, IPA has aggressively positioned itself for accelerated growth in all area of business. In response IPA's culture of continuous growth, state of the art technology, and market expansions they are currently accepting inquiries for existing and new markets. Selected agent advisors will receive unmatched compensation and support programs, in addition to dollar-for-dollar, publically traded wealth accumulation stock program, and much more. For more information about IPA Family and the companies it represents, candidates may visit http://www.ipafamily.com or contact the headquarters direct at 813-983-2900 or 1-800-772-8667.
"Integrity is the first step to true greatness. In our IPA Family, honesty and integrity comes above everything else," comments Roxanne Huggins, Area Performance Leader.
IPA encourages candidates to take a look at A Conversation on Character through the eyes of some of IPA's top leaders including IPA's President Mr. David Keeler. This video captures IPA's sincere description of its "family" culture. Click here to view IPA's Conversation on Character.
"IPA prides themselves on the fact that our primary customer is our sales force, and if they are treated with integrity, respect, and encouraged to capitalize on our culture, then everything else that is important to building a company works out," said Keeler. He went on to explain, "Qualified candidates will possess the following attributes: ability to make decisions and solve problems, active listening skills, critical thinking skills, selling, time management, and most importantly operate with the highest ethical standards. This is a true career opportunity that could change lives."
About American Independence Corp., The IHC Group and IPA Family, LLC
American Independence Corp, (NASDQ: AMIC), Independence Holding Company (NYSE: IHC) and IPA Family, LLC are all members of The IHC Group, an organization comprised of insurance carriers, and marketing and administrative affiliates who are committed to providing excellent service and offering competitive health, life, disability, stop-loss, short-term medical, travel and dental insurance products to groups and individuals. IPA Family, LLC is a national marketing organization that distributes major medical insurance plans and other health insurance plans and consumer benefit membership programs across the nation. IPA's trained professional sales associates, referred to as the "IPA Family," provides information and a product portfolio that can meet the needs of most small business owners and self-employed individuals and families. Headquartered in Tampa, Fl., IPA is accredited and has an excellent reputation with the Better Business Bureau (bbb.org)
IPA encourages everyone to visit the IPA Family on the following social media sites:
Facebook: Simply search IPA Family
YouTube: TheIPAFamily
Twitter: Subscribe @IPA_Family