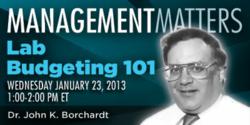 Midland, ON (PRWEB) January 18, 2013
The laboratory budget is a short-term plan for the future. Its purpose is to establish a forecast of spending to guide one's R&D programs during the next fiscal period. The best way to begin determining a budget is with a SWOT (Strengths, Weaknesses, Opportunities and Threats) analysis of the company and its product lines. Discussions with laboratory staff members to determine budget needs are also important. Find out all you need to know about budgeting for your lab in this webinar.
Participants will learn:

Advantages of the SWOT process and how to use it effectively
Importance of outsourcing in cost savings
How to understand their businesses and spending requirements
Disadvantages of spending substantially either under or over budget
To complete their budget in a timely way through the basic principles of project management
To take advantage of this free webinar and expert's advice, click here: Register Now!
Who should attend?
This webinar is ideal for: lab managers, lab technicians, scientists in academia, chief executive officers (CEOs), chief risk officers (CRO), chief compliance officers (CCO), equipment purchasing agents, laboratory leaders, post doc graduates, procurement managers, and many more.
Agenda:
This session is scheduled for 60 minutes and will be broken down into a 45-minute presentation with a 15-minute open forum for a live Q & A, all using the GoToWebinar platform. After the session, all attendees will receive links to the presentation materials posted on LabManager.com.
Meet the Speaker:
Dr. John K. Borchardt has worked as a bench chemist, team leader, group leader and technology manager for three large companies: Hercules, Halliburton Services and Royal Dutch Shell and a small specialty chemical company, Tomah Products. He has written more than 130 peer-reviewed research papers and holds 30 U.S. patents. He is the author of a book, "Career Management for Scientists and Engineers."
When: Wednesday January 23, 2013
Where: Live Web Event via GoToWebinar Platform; a link will be provided after free registration at: Register Now!
Time: 1:00pm to 2:00pm EDT
About Lab Manager Magazine
Lab Manager Magazine delivers practical business and technology insights to today's lab professionals with more relevant management, financial, and purchasing information than any other industry publication. Our writers, including chemistry and biology Ph.D.s with lab management experience, know the market and know the challenges facing today's research professional. Everyone generates content. Lab Manager Magazine provides intelligence. That's why a growing number of lab professionals turn to Lab Manager Magazine to stay abreast of the latest technology developments, applications, comparisons, and analyses, as well as business and industry trends.