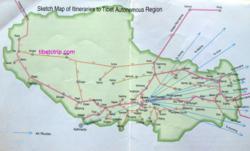 With travel maps of Tibet in hand, travelers can gain a better understanding of Tibet tourists' attractions.
(PRWEB) March 25, 2013
Using a travel map of Tibet to plan a tour can be a great way to identify interesting destinations. To help travelers make informed travel decisions, Tibet Ctrip Travel Service-TCTS recently updated few more new Tibet travel maps on their map pages of its website. It is now possible to view a wide variety of maps, including maps of popular trekking routes! Looking at maps while planning a tour helps travelers gain an understanding of Tibet and where popular attraction are located in relation to one another.
Sitting in the far southwest corner of China, directly to the north of India, many people consider Tibet to be the edge of Central Asia while some consider it a part of North East Asia. Looking at a variety of Tibet travel maps is the best way to learn about its location! Bordering India, Nepal, Tajikistan, Burma, and Bhutan Tibet covers an area 1.2 million square kilometers and is the highest altitude region in the world. The world-famous Himalayas separate Tibet from India, Nepal, and Bhutan while the Kunlun ranges in the far northwest Separates Tibet from East Tajikistan.
TCTS's maps page includes maps of specific locations, such as Lhasa and central Tibet, as well as maps of larger regions. For travelers who plan to extend their tour outside of Tibet, TCTS has also made available maps of Nepal and Yunnan. Trekking maps, like the map of the Kailash trekking route, is an excellent resource for trekkers looking to familiarize themselves with the trekking route, distance, and altitude. Maps of Tibetan cities, like Lhasa, can be used to plan walking tours. Travelers will be able to get an idea of the distance from place to place and plan in advance where they would like to stop.
When planning a trip, travelers are encouraged to refer to a Tibet tourist map while reading about tours or talking with a Tibet tour advisor. Looking at a map while planning is a great way to aid in brainstorming ideas for customizing a travel group's itinerary! TCTS aims to help travelers maximize the value of their Tibet travel experience, making maps freely available can allow travelers to land in Tibet and hit the ground running. TCTS welcomes any and all questions travelers may have about Tibet or planning a tour. The best season for travel in Tibet is rapidly approaching so travelers are advised to plan in advance and make their reservation soon.
Devin Moore provided this Tibet map news release above on behalf of local Tibet tour agency TCTS (tibetctrip.com). Devin is a travel writer and independent economic analyst based in Springfield, Missouri USA. His economic research is currently focused on airfare pricing. Devin Moore works to spread awareness of Tibet and its people through publishing Tibet travel information.