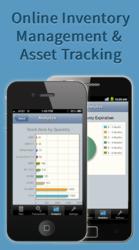 ...it is very important for companies like ASAP Systems to continue to innovate and bring the features to the market that make a big difference and give them the competitive advantages required to thrive in a global economy, said Elie Jean Touma, CEO
San Jose, CA (PRWEB) March 19, 2013
New features for ASAP BarCloud furthers ASAP Systems innovation leadership in the inventory management and asset tracking industry.
ASAP Systems, a market leader in online Saas inventory management and asset tracking systems, today announced the release of several advanced features for its cloud based inventory and asset management solution, BarCloud. ASAP Systems' customers can now gain critical business insight into their inventory and asset data via analytics charts to make better purchasing and management decisions.. A robust set of user selectable charts and graphs allows users to analyze data quicker than reporting alone allowing to make predictions about the future performance of their assets or inventory.
In addition to data analytics, ASAP Systems released multisite capabilities which allows organizations to separate data by department, location, or warehouse limiting users to their own data. These advanced features further extend ASAP Systems position as the innovation leader for SaaS cloud based inventory management and asset tracking to businesses big and small in all industries including warehouse, healthcare, government, manufacturing, and education.
In addition to these major feature enhancements, ASAP Systems upgraded its BarCloud mobile app that works on smartphones, tablets, and rugged mobile devices to include analytics and photo capture and display. Today's workforce is increasingly becoming mobile and the ASAP BarCloud mobile app puts information at employees fingertips to expedite decision making and increase customer satisfaction.
"In today's competitive business climate, it is very important for companies like ASAP Systems to continue to innovate and bring the features to the market that make a big difference and give them the competitive advantages required to thrive in a global economy," said Elie Jean Touma, President and CEO of ASAP Systems.
About ASAP Systems
ASAP Systems is the market leader in online inventory management and asset tracking systems that use barcode and RFID technology with Motorola mobile scanners and other wireless devices, including smartphones and tablets. We help improve profitability by eliminating manual data entry, paper files and forms and by automating records and other important documents. With our online software, ASAP BarCloud, and the mobile ASAP BarCloud App, businesses know 24/7 how and where assets and inventory are received, stored, used and disposed of — in the warehouse, in the field and in the office.