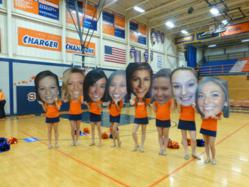 We predict a surge in Big Heads on TV during the 2013 College Basketball playoffs
(PRWEB) March 06, 2013
Take a piece of poster board, write in big bold letters a clever message of support for your favorite team or player and wave it wildly when the camera is pointed in your direction and you've got a shot at being seen on television.
That was the way sports fans have been doing it for decades. But that's so old school.
Big Heads is new school.
Big Heads are a larger than life personalized photos, printed on high quality, durable cardboard that has become a growing fan favorite.
Sports Illustrated columnist George Dohrmann, recently traced the Big Heads concept back to 2002, when 25 year old Conor Mongan created one of the first versions of a Big Head as a way to distract opposing teams of his beloved San Diego State Aztecs when they were shooting free throws.
Shindigz, a leading party supplies provider, has seen orders sky rocket for personalized Big Heads. The combination of quality, price and convenience with online ordering are fueling this fan phenomenon in 2013.
"We predict a surge in Big Heads on TV during the 2013 College Basketball playoffs", says Jacquie Downey, Director of Sales and Marketing for Shindigz.
Also popular right now are Grumpy Cat Big Heads, Celebrity Big Heads and some high schools are using them as part of their pep rallies. The reaction to a 3 foot tall face really gets the crowd energized.
About Shindigz
Since 1926, Shindigz has "made life more fun" for 23 million events through the manufacture and sale of personalized party supplies. It ships products from its facilities in South Whitley, Indiana across the United States and around the world to 59 countries. With more than 36,000 products, it provides customers with a complete party solution. For more information about Shindigz, go to http://www.shindigz.com.