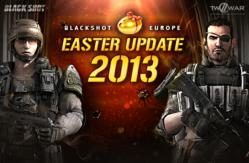 At the launch of the Easter update, the publisher holds a special egg-hunting event in the game.
Eschborn, Germany (PRWEB UK) 19 March 2013
eFusion MMOG GmbH, a European publisher of massively multi-player online games, announced today that some special Easter contents and events have been launched in BlackShot Europe.
The free-to-play MMO FPS, BlackShot Europe has been updated today with an Easter theme bringing in brand new in-game content. Players can enjoy a new map, LRT in TFM (Team Flag Match) mode, which is based on the model of the Malaysian local Light Rail Transit and the modified Factory map in TDM (Team Death Match) mode. Also there are some new uniquely shaped snipers AWP Petronas, one of the lightest SAWs (Squad Automatic Weapons) Ultimax 100 and a new US Marine rifle LWRC added to the weapon store.
At the launch of the Easter update, the publisher holds a special egg-hunting event in the game. Those who play BlackShot Europe every day, for five days in a row, can receive Daily Easter Eggs and a Big Easter Egg. Inside the eggs, players can find some terrific items during this Easter season. Additionally, players can wear in-game Bunny Ears for fun and explode Easter Egg Grenades instead of regular ones.
Furthermore, players can take many advantages in several events running on the Facebook Fan page and website. Every time the Facebook community reaches the Likes Goal, all players can be enormously boosted for three days. And each player can get some powerful weapons when they defeat the Boss Monster as a team. As for returning players getting back to the game after a long break, a great welcoming gift package will await them.
BlackShot Europe Official Website: http://www.twowar.com/games/blackshot.asp.
BlackShot Europe Facebook Fan Page: http://facebook.com/BlackShotEu
About BlackShot
BlackShot is a tactical MMOFPS developed by Vertigo Games, based on the story of an unprecedented world war. With different objectives and in various areas, players can enjoy exciting PvP battles. By fighting in a team and fulfilling different tasks, players can gain rewards to advance characters in level, gears, weapons, and some very important tactic skills.
About eFusion MMOG GmbH
eFusion MMOG GmbH, headquartered in Eschborn, Germany, is the official publisher of Dragon Nest, BlackShot and NavyField in Europe. Founded in 2007 and initially specialised in military games, eFusion MMOG is now extending its game portfolio and focusing on the publication of high quality massively multiplayer online games (MMOGs) developed especially in Korea for European markets.
Contact
eFusion MMOG GmbH
Mergenthalerallee 77, D-65760 Eschborn, Germany
Web: http://www.twowar.com
Tel: +49 (0)6196 – 9986 900, Fax: +49 (0)6196 – 9986 909
Email: press(at)efusion-mmog(dot)com
Michael Lim, CEO
Email: michael(at)efusion-mmog(dot)com
Sonnya Lee, Press Relations
Email: sonnya(at)efusion-mmog(dot)com
Tel: +49 (0)6196 – 9986 902