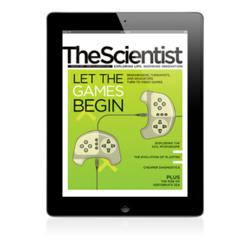 One of our core objectives is to develop new products that disseminate our content in innovative ways, and our new iPad app is consistent with that goal
Midland, ON (PRWEB) February 04, 2013
In addition to flipping pages, readers of The Scientist now have the option of swiping their finger across an iPad screen to read the same timely, award-winning articles exactly as they appear in the print magazine. The benefits of this new app are abundant: portability, readability, archivability, and environmental consciousness. This new digital extension of The Scientist allows readers to access the magazine's unique content, which offers life-science researchers engaging and unbiased coverage of the latest happenings both inside and outside their own disciplines to inspire scientific innovation.
"Our subscribers have told us they are interested in seeking new ways of reading The Scientist across many platforms," said Mary Beth Aberlin, editor-in-chief of The Scientist. "One of our core objectives is to develop new products that disseminate our content in innovative ways, and our new iPad app is consistent with that goal."
The Scientist Magazine iPad app offers the digital versions of the magazine and its supplements for a low annual fee. To download, users can go to the App Store; search for "The Scientist Magazine;" and install the app. When installation is complete, subscribers can download the January 2013 issue of The Scientist for free. To download additional issues, readers can purchase a paid subscription to The Scientist through their iTunes account. The single-issue price is $3.99, a 6-month subscription is $19.99, and a 1-year subscription is $34.99.
For more Subscription Information click here.
About The Scientist:
The Scientist has informed and entertained life science professionals around the world for more than 25 years. We provide print and online coverage of the latest developments in the life sciences including trends in research, new technology, news, business and careers. We reach the leaders in academia and industry that are interested in maintaining a broad view of the life sciences by reading insightful articles that are current, concise and entertaining.
END
###