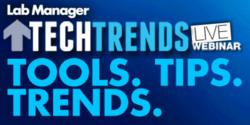 Midland, ON (PRWEB) January 22, 2013
Lab Manager Magazine's Tech Trends webinar series returns for 2013 and starts this year's series off with a discussion on ELN and LIMS.
ELNs are literal replacements for the bound paper notebooks traditionally used by lab personnel. They hold specific experimental data that reflect minute-by-minute, documentable lab activities. ELNs can prove to be very useful to help design experiments, document and archive all data, share data with colleagues anywhere in the world, meet regulatory audits, and provide a legal basis for generating intellectual property.
The panel of experts will talk about the next-generation of ELNs and their dynamic features, serving various applications throughout the organization.
Experts from the following companies will be participating in this live webinar:

PerkinElmer
Agilent Technologies
Waters Corporation
Additional areas to be outlined:
A successful implementation strategy
The relationship between the ELN and other laboratory information management systems (LIMS)
The functionalities needed to support various scientific disciplines and workflows
Customization for specific needs and applications, fulfilling compliance and regulatory requirements
The organizational needs related to knowledge management and financial investment
Attendee will gain understanding of:
What an ELN can do
How ELN can bring benefits to the lab
How to choose the right supplier
How to effectively implement and utilize ELN
To take advantage of this FREE Webinar and Experts advice, click here: Register Now!
Who should attend?
This webinar is ideal for: lab managers, lab technicians, scientists, laboratory leaders, post doc graduates, and many more.
Agenda:
This session is slated for 90 minutes and will be broken down into a 60-minute presentation with a 30-minute open forum for a live Q & A, all using the GoToWebinar platform. After the session, all attendees will receive links to the presentation materials posted on LabManager.com.
When: Thursday January 24, 2013
Where: Live Web Event via GoToWebinar Platform; a link will be provided after free registration at: Register Now!
Time: 12:00pm to 1:30pm EDT
Free Subscription to Lab Manager Magazine: Click Here
About Lab Manager Magazine
Lab Manager Magazine delivers practical business and technology insights to today's lab professionals with more relevant management, financial, and purchasing information than any other industry publication. Our writers, including chemistry and biology Ph.D.s with lab management experience, know the market and know the challenges facing today's research professional. Everyone generates content. Lab Manager Magazine provides intelligence. That's why a growing number of lab professionals turn to Lab Manager Magazine to stay abreast of the latest technology developments, applications, comparisons, and analyses, as well as business and industry trends.