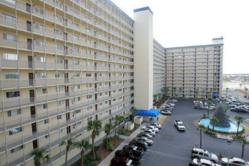 2013 Bike Week Rally in Panama City Beach, Florida
Panama City Beach, FL (PRWEB) March 30, 2013
PCBVacation.com Reminds Visitors to Safely Enjoy Panama City Beach Bike Week 2013
The spring rally for 2013 Panama City Beach bike week starts May 1 and is expected to bring thousands of motorcycle riders to the area.
PCBVacation.com wants to ensure that each and every rider has a safe and fantastic time during bike week. To make that happen, we offer safety tip reminders for car drivers and motorcyclists who will be sharing the road.
Bike Week is always one of the most popular spring events in Panama City Beach. This year, we expect to welcome 80,000 or more bikers to the roads of Florida as they travel to PCB and spend a week here celebrating the freedom that comes with riding.
Everyone should have the right to enjoy their visit to Panama City Beach for this rally. Unfortunately, a few visitors every year end up experiencing an injury, or maybe worse, due to a mishap on the road during Panama City Beach bike week.
According to the state of Florida, motorcycle injuries are on the rise. Motorcycle crashes used to account for five percent of the state's traffic fatalities, but that number has climbed to 16 percent. Meanwhile, there are six times as many crash-related hospitalizations and 17 as many ER visits as fatalities.
Many of the most harmful crashes involve another vehicle.
We don't want any riders to become one of those statistics during Panama City Beach bike week 2013. With smart driving and a little extra caution, we can avoid injuries and keep PCB safe for everyone to enjoy the thrilling spring rally.
Here are some motorcycle safety tips to keep in mind during 2013 Bike Week in Panama City Beach:

Remember that motorcycles are much smaller than vehicles and are easier to miss. Always look twice when turning or changing lanes.
Every car has up to nine blind spots. It's easy for a motorcycle to fit into one of those spots, creating the potential for a crash. Beware of your blind spots and be sure to check them before making any changes while driving.
Because motorcycles are smaller, it can be more difficult to judge their speed as they approach you. Always take that extra second to be sure you have space before pulling into traffic or changing lanes. It could mean the difference between a crash and a motorcyclist passing safely. When in doubt, just assume the motorcycle is closer than it looks.
Leave a cushion of at least three to four seconds between your vehicle and a motorcycle in front of you. The reason: Motorcycles often roll to a stop instead of braking, so you might not see the brake lights come on. Also, motorcycles need more distance to stop on wet pavement, just like your car.
Always obey all traffic laws and signals, whether driving a car or riding a motorcycle. And always keep an eye out for others who might not follow the rules – especially at intersections.
Make sure every other motorist can see you on your motorcycle. Remember that it's easy for a car or truck driver to overlook you, so make yourself as visible as possible. Wear reflective gear, make sure all of your bike lights are working properly, and be careful when approaching a driver's blind spot.
Always know your limits and ride within your skill level. You know how much control you have over your bike, and what happens when you lose that control. Only ride at speeds and in conditions under which you know that you can maintain control.
Wear the proper protective gear because it is going to be the only thing between you and the road in a crash. Make sure you wear a DOT certified helmet at all times. Tempting as it may be with the beautiful weather during Panama City Beach bike week, skip the t-shirt and shorts while riding. Protective jackets and pants and proper foot gear will save your skin in an emergency.
Anticipate, anticipate – the further ahead you see, the more time you will have to avoid obstacles and hazards, whether in a car or on a motorcycle. Watch what other drivers are doing, be aware of how your own actions might affect their driving and don't assume that other drivers can see you. Also, use signals so other drivers can also anticipate you.
Don't drink and drive. Period.
Follow these rules for a safe Panama City Beach bike week and you'll be sure to have a memorable time without accidents.
And when you're looking for a great vacation rental for Panama City Beach bike week, remember that PCBVacation.com is the area's No. 1 destination for top condo rentals.