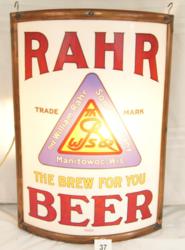 Evansville, Indiana (PRWEB) June 27, 2013
Sohn & Associates, an Indiana auction company, is set to hold a two day auction showcasing the lifetime collection of the late Earnest "Woody" Wood of Evansville. Woody's collection features breweriana and advertising collectibles and memorabilia. The auction is set to take place on Saturday, July 20th at 9:00 AM and Sunday, July 21st at 12:00 noon. The auction will be conducted at Sohn & Associates' auction facility in Evansville, IN. To get directions to the auction and see hundreds of photos click HERE.
Sohn & Associates will feature rare pieces of breweriana such as a Rahr Beer, "The Brew for You," lighted corner sign, and a framed paper advertising sign for F.W. Cook Brewing Co, the sign is titled, "The Enthusiast, Philosopher, and the Realist." Other hard to find pieces include a framed tin on cardboard sign for Stroh's Bohemian Beer and a cardboard stand up sign for Fox Head 400 beer, from Waukesna, Wisconsin. Evansville pieces being offered include a porcelain sign from Evansville Brewing Association, an original framed sign on tin for Cooks Goldblume, and a tin on cardboard sign for Sterling brewers. Sohn & Associates will also offer serving trays, back bar displays, advertising clocks, reverse on glass, and much more.
To see a full listing of the advertising items being offered at Sohn & Associates visit http://www.SohnAndAssociates.com/upcoming-auctions. Join Sohn & Associates for the live two day auction in Evansville, Indiana on Saturday, July 20th at 9:00 AM and Sunday, July 21st at 12:00 PM. Bid online at http://www.Proxibid.com/sohn, please note all online terms before bidding.
Sohn & Associates has over 90 years of combined auction and real estate experience and belongs to the Indiana Auctioneers Association and the National Auctioneers Association. The full service auction company specializes in real estate, antiques, collectibles, firearms, tools, equipment, and business liquidations. To request information send an email to info(at)SohnAndAssocites(dot)com.