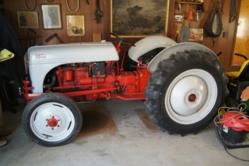 Evansville, Indiana (PRWEB) March 27, 2013
Sohn & Associates, an Indiana auction company, has scheduled a public auction for Brenda Thompson and The Estate of Roy Thompson, former auctioneer, on Saturday April 6th at 9:00 AM. The auction will take place at 849 Smith School Rd in New Harmony, Indiana, to the northwest of Evansville. Mr. Thompson was an avid collector of farm toys and antiques. To see hundreds of photos click HERE.
Mr. Thompson's 11-year-old donkey, Cisco will be one of the featured lots to cross the block at this estate auction. The sale of the donkey will be a milestone for Sohn & Associates, as he is the first live animal the company has auctioned. A saddle, small horse trailer, and miscellaneous tack will also be up for auction.
The next featured item is a restored 8N Ford tractor. This tractor is in good condition and is a hard to find collector's item. A 3 PT 2 bottom plow will also be available for bidding. A matching 8N ERTL toy tractor with plow will sell along with additional die cast farm toys. All farm toys are ERTL and most are in their original box. The auction will also include many other collectibles along with household items from Mr. Thompson's estate. For a full listing and terms please visit http://www.SohnAndAssociates.com/upcoming-auctions.
Sohn & Associates has over 90 years of combined auction and real estate experience and belongs to the Indiana Auctioneers Association and the National Auctioneers Association. The full service auction company specializes in real estate, antiques, collectibles, firearms, tools, equipment, and business liquidations. For more information email info(at)SohnAndAssociates(dot)com.