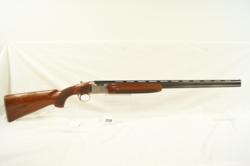 At Sohn firearms auctions you will find merchandise handled professionally by a knowledgeable and competent staff
Evansville, Indiana (PRWEB) June 27, 2013
Sohn & Associates will be holding their next firearms auction on Saturday, July 27th at 9:00 AM CDT. The auction will take place in Evansville, Indiana at Sohn & Associates auction facility. Sohn & Associates holds approximately four firearms auction per year. These well attended auctions, onsite and online, help their customers achieve strong market value for their guns and accessories. Sohn & Associates has held a federal firearms license for 10 years and has a firearms professional on staff. "At Sohn firearms auctions, you will find merchandise handled professionally by a knowledgeable and competent staff," said Dannie Duffy, a valued customer of Sohn & Associates.
Sohn & Associates consistently gets top dollar for the firearms at their auctions. For example, in the July 2012 firearms auction a 1937 Mauser production S/42 luger pistol, 9MM, sold for $1,200.00. Another firearm in the July 2012 sale was a Colt 1860 model army 44 revolver, with matching numbers and ivory grips, which were carved with the likeness of Ulysses S. Grant. The Colt sold for $7,300.00.
To find out more sale prices, visit http://www.SohnAndAssociates.com and click on "What Sold" located on the top right of the page.
In the upcoming July firearms auction, customers will be able to bid on a Winchester Model 11, 12ga. Pigeon Grade shotgun and a Winchester Model 94AE rifle which is a Vanderburgh County Commemorative edition. A featured hand gun to cross the auction block is Century Model 100 revolver. Over 75 knives will also be offered at this auction. This is a small sampling of the inventory, and a full list is available HERE. Online bidding on these firearms and others is available at http://www.proxibid.com/sohn. Join Sohn & Associates for the live auction on Saturday, July 27th at 9:00 AM CDT.
Sohn & Associates has over 90 years of combined auction and real estate experience and belongs to the Indiana Auctioneers Association and the National Auctioneers Association. The full service auction company specializes in real estate, antiques, collectibles, firearms, tools, equipment, and business liquidations. To request information, send an email to info(at)SohnAndAssocites(dot)com.