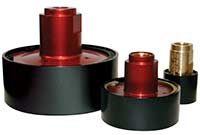 (PRWEB) March 14, 2013
Industrial Magnetics, Inc. has expanded their line of Transporter® LP magnetic end-of-arm tooling, designed to magnetically transfer metal blanks, stampings & parts in automated station-to-station, press-to-press transfer and robotic pick-and-place applications.
Engineered with powerful Rare Earth magnets that positively hold the part during transfer, even during unexpected loss of shop air, the Transporter® family greatly reduces slipping and shifting, offers more options for pick-up points on stamped, perforated and odd-shaped parts and a significant reduction in shop air costs over vacuum and suction cups.
Now available in 5 different configurations, including Standard, Non-Rotating(NR), Destacking(DS), Double-Acting(DA) and Extra-Strong(ES) models, the Transporter® LP's are designed to directly replace vacuum cups with only minor tooling adjustments and can be easily installed to existing air connections on tooling booms or robotic face plates. Ideal for applications in the Appliance, Automotive, and Office Furniture industries, as well as numerous other material handling applications, the Transporter® LP is next-generation sheet handling technology.
Standard products are available to order online at http://www.magnetics.com, along with a full line of accessories and fittings such as adhesive pads, urethane boots and BSPP fittings. IMI also specializes in custom designs, providing magnetic Transporter® product for coil lifting, banded material handling and other challenging applications.