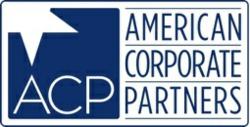 (PRWEB) March 12, 2013
American Corporate Partners (ACP), a national nonprofit organization that connects post-9/11 veterans to business professionals for career guidance, is pleased to announce that Bristol-Myers Squibb has joined its Veteran Mentoring Program. With Bristol-Myers Squibb's support, a group of employees in various roles throughout the company will offer yearlong professional mentorships to returning veterans nationwide.
Since ACP's founding in 2008, more than 2,000 veterans have successfully completed a mentorship through the Veteran Mentoring Program. Bristol-Myers Squibb's membership in the program will allow ACP to expand its offerings and serve a greater number of returning veterans.
About Bristol-Myers Squibb
Bristol-Myers Squibb is a global biopharmaceutical company whose mission is to discover, develop and deliver innovative medicines that help patients prevail over serious diseases. For more information, please visit http://www.bms.com.
About ACP
American Corporate Partners (ACP; http://www.acp-usa.org) is a New York-based national nonprofit organization founded in 2008 to address veterans' career transition needs through two free programs: a nationwide veteran mentoring program, and an online network, ACP AdvisorNet (http://www.acp-advisornet.org), offering career, employment and small business advice through a Q&A platform. More than 40 institutions nationwide have partnered with ACP's Veteran Mentoring Program to offer free corporate mentorships to the brave men and women who have served our nation.