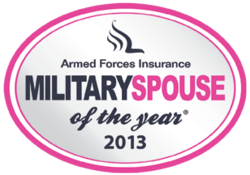 We are very excited to announce this year's MSOY branch winners. They are nothing short of spectacular. — Babette Maxwell, Military Spouse magazine Founder and Executive Editor
Pittsburgh, PA (PRWEB) March 07, 2013
The votes have been tallied and the six branch winners of the 2013 Armed Forces Insurance's Military Spouse of the Year ® presented by Military Spouse magazine have been selected. The 2013 branch winners are:

Army: Tara Crooks, Fort Sill, OK
Marine Corps: Karen Guenther, MCB Quantico, Washington, D.C
Navy: Alisha Youch, NSB Kings Bay, GA
Air Force: Verenice Castillo, Maxwell AFB, Montgomery, ALA
Coast Guard: Shelley Kimball, District 7, Miami, FLA:
National Guard: Alicia Hinds-Ward, Washington, D.C.
The finalists for this award were selected through an online vote open to all Americans. Learn more about the Award Program and the individual Branch Winners who are in the running for the overall 2013 AFI MSOY ® Award at http://www.msoy.militaryspouse.com.
Out of these six Branch winners, the overall 2013 Military Spouse of the Year ® winner will be announced at the prestigious sixth annual MSOY Awards Ceremony in Washington, D.C. on May 9th at Joint Base Myer-Henderson Hall. Attended by VIPs from the military, government, business and more, the Awards luncheon is always celebrated in conjunction with Military Spouse Appreciation Day.
"We are very excited to announce this year's branch winners," said Babette Maxwell, Military Spouse magazine Founder and Executive Editor. "They are nothing short of spectacular and we look forward to the coming year as they represent their branches and all the military families in our nation. Each and every one of them would be a terrific overall winner – and we can't wait to surprise them in May!"
The Military Spouse of the Year ® represents the millions of past and present military spouses who continue to thrive in a wartime environment, dedicate their lives and families to service of a grateful nation and give back to a community in need.
"From a highly engaged group of 169 Installation Spouses of the Year, the field was narrowed to the top eighteen. As we laud those selected to represent their service as Branch Spouse of the Year, Armed Forces Insurance wishes to also recognize the MANY contributions of all who competed" stated Garry L. Parks, Lieutenant General, U.S. Marine Corps (Ret.), Chairman Armed Forces Insurance. "Our nation's armed forces are unquestionably stronger because of your selfless support!"
About Military Spouse
Military Spouse magazine and http://www.militaryspouse.com published by Victory Media, is the leading national magazine and online destination for the nation's 1.1 million military spouses. You can follow us on Facebook at http://www.facebook.com/militaryspousemagazine and on Twitter @MilSpouseMag. The company also publishes G.I. Jobs magazine (http://www.gijobs.com) and Vetrepreneur magazine (http://www.navoba.com), and has created the Buy Veteran movement powered by NaVOBA.
About Armed Forces Insurance
AFI was founded in 1887 by military leaders with a single mission: to protect the property of those who protect our nation. The company provides premium quality, competitively-priced property and casualty insurance to military professionals throughout the United States and overseas. AFI understands that military members have unique circumstances and insurance needs, enabling the company to offer a level of personalized service that's unequaled in the industry. For more information, visit the website at http://www.afi.org or call 1-800-495-8234.
For more information or to arrange interviews, contact:
BP Media Relations, LLC
Barbara Pflughaupt: 212-707-8181 or Judee Cohen: 917-721-0663
# # #