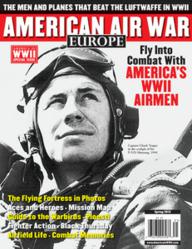 Flyers took this kind of deadly risk over and over again.
HARRISBURG, PA (PRWEB) March 31, 2013
America's World War II military aircraft were thin-skinned metal pods, hung in the sky by the science and miracle of wings and engines. For the men who flew in these fighters, transports, or big Flying Fortress or Liberator bombers, there was one sure thing: they were going to get close enough to the enemy to trade bombs and bullets. And if the enemy's bullets and flak (anti-aircraft shell shrapnel) made enough holes in those planes, they were going down, possibly 30,000 feet or more. Each airman's life and future would then depend on a parachute and on who he encountered on the ground—friend or foe.
Such was the situation in which the pilots and air crewmen of the US Eighth, Ninth, Twelfth, and Fifteenth Army Air Forces found themselves in their epic air war against Nazi Germany and Fascist Italy, 1942–1945. Their plight—as well as their victories, heroics, airfield life, airplanes, and culture—are the focus of AMERICAN AIR WAR: EUROPE, the just-released spring 2013 special issue from AMERICA IN WWII magazine.
"Flyers took this kind of deadly risk over and over again," says AMERICA IN WWII publisher Jim Kushlan, who edited AMERICAN AIR WAR: EUROPE. "Bomber pilots and crews were on the hook for 25 missions—or up to 50 by the war's end."
"There were constant opportunities for death, injury, or capture," Kushlan says. And, all too often, those opportunities came to fruition. Author Brian John Murphy notes in his introduction to chapter two of AMERICAN AIR WAR: EUROPE that the total of "US airmen killed in the war against Germany and Italy numbered 33,802." And that, he writes, made the US Army Air Forces "proportionally the riskiest army branch in which to serve."
Kushlan's own father served aboard Martin B-26 Marauder and Douglas A-26 Invader medium bombers in Europe. "Dad always told me, 'We were just dumb kids. If we had been older, we would have known better and been too scared,'" Kushlan says.
AMERICAN AIR WAR: EUROPE tells the story of our nation's World War II airmen fighting across the Atlantic, in 100 pages of articles, period photographs, artifacts, maps, and charts. There are articles on daring but devastatingly costly raids on Ploesti, Romania, and Schweinfurt, Germany. "But it's not all grim stuff," Kushlan says. The issue also features a photo gallery of painted leather flight jackets, period color photos of US airfield life in England, and modern photos of Boeing B-17 Flying Fortress bombers by photographer Joe Razes. There is also a gallery of heroic and distinguished American flyers of World War II's European theater.
AMERICAN AIR WAR: EUROPE is on newsstands at Barnes & Noble, Books A Million, and select other bookstores. It is available by direct order at http://www.AmericaInWWII.com/issues/specials/american-air-war-europe/. A digital version is on Barnes & Noble's Nook Newsstand; other digital formats are available at http://www.AmericaInWWII.com/subscriptions.