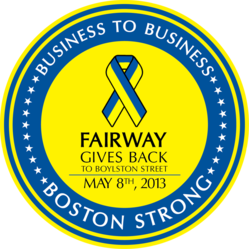 We have gotten wonderful feedback so far and everyone we talk to is really excited to participate.
Needham, MA (PRWEB) May 01, 2013
Fairway Independent Mortgage Corporation will be bringing realtors and clients to Boylston St. in Boston on Wednesday May 8 to shop and dine at local businesses that lost income due to the bombings on April 15th during the Boston Marathon.
The day will include round-trip bus transportation to and from Boston, a list of participating shops and restaurants, and special offers and promotions provided by participating stores. It is anticipated that up to 200 people will attend with buses coming from Needham, the North Shore and Cambridge.
"Like many we were looking for a way to support those impacted by the tragic events on April 15th," said Fairway Independent Mortgage Regional Vice President,Amy Tierce. "Reading about the lost revenue, damaged storefronts and inventory and fears that some businesses may not survive really hit home for me as a small business owner."
Fairway has reached out to 20 businesses on Boylston Street, all of whom are interested in participating in some way. Some restaurants will be featuring special menus and drinks, other businesses will provide special promotions or coupons for participants. The shopping and dining event is being called: "Fairway Gives Back to Boylston Street: B2B Boston Strong." Those attending will be given a special button to wear that will identify them in this way to participating vendors.
Says Amy, "We have gotten wonderful feedback so far and everyone we talk to is very excited to participate. If we can get 200 people into the city to spend a little money while introducing new customers to local merchants the event will be a success."
Fairway Independent Mortgage is located in Needham, MA and is a branch of Fairway Independent Mortgage Corporation, among the top fifteen lenders in the country. Fairway's Needham office was started by Amy Tierce in 2006 and has grown to 30 employees including a satellite branch in Holden, MA. The Needham branch closed over 400 million in loans in 2012 and has been the top producing Fairway branch nationwide for the last five years. Working with the top national and regional investors Fairway is committed to providing customers the best rates and programs available, while still offering personal care to meet individual needs. To reach the Needham office call: 781-719-4664 or visit http://www.fairwayne.com.