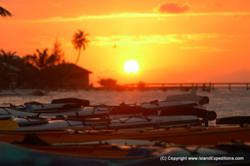 I enjoyed everything about this trip from the terrific guides to the workout of kayaking and snorkeling. I learned alot and have great memories of the experience and my fellow travelers.

Elizabeth Poulin
Paradise Islands
Dangriga, Belize (PRWEB) March 21, 2013
Island Expeditions, Belize vacation specialists, are offering last minute savings of $200 to $300 on their popular Glover's Reef and River of Caves, Lighthouse Reef and Paradise Islands Belize adventures.
April is a great time to travel to Belize, with some of the lowest airfares of the season available out of the major hubs. It's one of the driest months, and temperatures typically vary between a daily high of about 85 degrees and a daily low of approximately 76 degrees.
Island Expeditions will meet guests at the airport the day before the trip is scheduled to begin (called Day 0), so they'll have time to meet up with their fellow travelers and settle in for the adventure ahead. Trip prices include transfers, delicious meals, accommodations, guided instruction and a kaleidoscope of activities. At Island Expeditions' unique adventure basecamps on Lighthouse and Glover's Reef, guests stay in oceanfront tent-walled cabanas and have the freedom to enjoy a range of activities, from sea kayaking and snorkeling to yoga and hammock-surfing.
Paradise Islands - April 2 departure, 5 days/6 nights.
Lodge-to-Lodge sea kayak journey in the Southwater Caye Coral Reef Reserve.
This trip travels from island to island, and combines the adventure and excitement of a tropical sea kayak and snorkeling journey with the comforts of a lodge.
Lighthouse Reef - March 31 departure, 7 days/8 nights.
Tropical Wildlife and Hidden Coral Reefs.
This adventure is based on Half-moon Caye National Monument at Lighthouse Reef, Belize's most remote and spectacular island. Trip participants can paddle and snorkel the renowned Blue Hole - made famous by the legendary underwater explorer Jacques Cousteau.
Glover's Reef and River of Caves - April 1 departure, 7 days/7 nights.
Jaguar Rescue, Crystal Cave Float and the White Sand Cayes of Glover's Reef.
Glover's Reef Marine Reserve is a World Heritage Site, and considered to be one of the richest tropical marine environments in the entire Caribbean Sea. New for this trip season, the Glover's Reef and River of Caves trip includes a leisurely float down a rainforest river with inner tubes, exploring a fascinating limestone cave. At the Belize Zoo, guests get an up-close encounter with a jaguar as they are taken on an insider's tour of the zoo's first-ever of its kind wild cat rescue program.
Book now. Call 1-800-667-1630 for details on these specials, as well as additional specials available on alternate April trip departures. Availability is limited, and specials are not valid with any other offers. Visit http://www.islandexpeditions.com for trip information and to request a 36 page free Belize adventure guide.
About Island Expeditions - Leading the way to adventure for 27 years
Island Expeditions specializes in Belize and Yucatan adventure travel, offering small group trips to special places where few others travelers go...remote coral reefs, tropical rainforests and rich indigenous cultures. Trips provide skilled instruction in outdoor activities, as well as fun, learning and genuine interaction with the local people. No experience is necessary and trips are suitable for all levels. Island Expeditions is committed to responsible tourism, conservation and local education, supporting the Belize Zoo, Belize Audubon Society and local conservation initiatives. For student groups, Island Expeditions has been offering specialized programs for high schools, colleges and universities for over 20 years.
National Geographic Adventure Magazine rated Island Expeditions as one of the 'Best Travel Companies on Earth.'