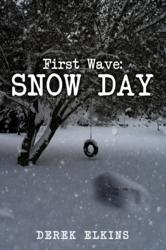 Holmen, Wisconsin (PRWEB) March 26, 2013
Bard and Book Publishing author Derek Elkins has released a new sci-fi thriller, First Wave: Snow Day.
They came with the snow. They came for us. Roger, left alone in the middle of a blizzard, thought he had a leisurely day off of work. He had no idea he'd be spending the day fighting for his life against the things that came with the snow. The first wave was meant to weed us out.
Several options are available for downloading First Wave: Snow Day. See complete options on the Bard and Book Publishing website.
Derek Elkins has authored several other books including "Bedlam's Door", "Three Conversations", "The Trouble With Bricks", and "Layover". You can read more about these books or find out how to purchase by visiting the Bard and Book online community.