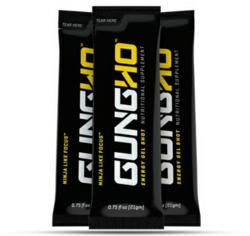 Caffeine for productivity? We are hoisted on our own petard
Salt Lake City, Utah (PRWEB) March 20, 2013
Productivity.
Think about it. What does that word mean to you?
Higher scores? On games; on tests; on the court?
Does it mean remembering what you just learned? Or learning what you were just supposed to learn?
Does it mean having the energy to continue just one more hour, or minute, or day?
Perhaps it means fewer mistakes, calm nerves, less anxiety, greater mental capacity.
Is your focus wandering, even as you read this?
Productivity – the difference between success and failure.
Productivity – the Holy Grail of dominance.
How Do You Improve Productivity?
Was caffeine anywhere in your answer? Is caffeine the key to productivity? How foolish. Come on, don't kid yourself. We have depended on caffeine for exactly this purpose for a very long time. And we continue to do so even though we know it will catch up with us; the price of our foolishness is a large case of the jitters, anxiety, nervousness, decreased accuracy and overall performance reduction, not improvement. In other words that which we thought would give us the advantage eventually turns to our disadvantage; we are hoisted with our own petard.
The Time Has Come To End This Foolishness - Caffeine Just Part Of The Equation
GungHo® is not suggesting the demise of caffeine (why throw the baby out with the bath water?). But we are strongly recommending the ascension of our focus shot to the prominence it deserves in the energy/focus/productivity market. Take GungHo's core ingredient: Cognizin Citicoline. Totally worthless in the tiny amounts (5-50 mg) found in energy shots and drinks, it is a marvelous partner with caffeine, Ashwaganda and Eleuthero when incorporated at the level used in clinical studies (250mg).
Like stripping away the husk of fresh picked corn to expose the inner sparkling kernels, Cognizin peels away the outer layers of anxiety and jitters, rush and crash of caffeine, revealing the precious core or fatigue fighting goodness and cognitive enhancement. Plus of-course, nothing replaces a balanced diet, sleep and exercise.
Caffeine for productivity? Not so foolish after all. When done right. Don't take our word for it. Try it. Productivity advantages – within reach.
About GungHo®
GungHo is a focus supplement for the brain. It was launched by Go GungHo, LLC out of Salt Lake City, UT in early 2012. More than simple alertness, GungHo's proprietary blend of ingredients are proven to increase focus, concentration, memory storage, and memory recall, while avoiding the harsh rush, jitters, and crash common with energy products.